At Selfridges' New Shoe Department, it's Shoe-La-La
Back to the Blog... | Post Feedback | Author Bio | Printer-Friendly
To say we love London's Selfridges is an understatement. There is not one trip we have made across The Pond when we have not dashed into Selfridges to buy something, anything, since just about everything "on offer," as the Brits say, is perfect, perfect for something...from the elegantly displayed goods in the Wonder Room (shop/gallery with nifty, beautifully designed merch), to the leather goods dep
artment (ask us about our credit card holder that comes from Aspinal of London, purchased there), to the bench-jewelers' work displayed on the first floor, to the oh-so-tempting S-H-O-E department. That is to say, the NEW, AMAZING, LARGEST-IN-THE-WORLD shoe department opening officially in two days! (Just as an aside, we were there last month, while the place was still under construction--a hard-hat area--so we felt cheated, knowing we would miss the grand opening of the massive second-floor footwear destination.)
It's 35,000 square feet with six different types of shoe salons nestled cozily into that Behemoth space, showcasing upmarket brands like Lanvin for the luxury-minded and mass-appeal labels like TopShop for the tight-fisted, value-oriented fashionista. There are 11 branded departments-within-a-department (featuring the likes of usual suspects, like Prada, Tod's, Jimmy Choo), and a few surprise bold-face designer names, better known for their cutting-edge clothes than their footwear, like A. F. Vandevorst, Ann Demeulemeester, and Maison Martin Margiela. It's just Shoe Heaven, in a word (or two), celebrating more than 150 brands, an additional 35 new brands, and endless styles--don't miss out viewing the world's longest wall of Havaianas, speaking of styles.
There are over 4,000 shoes on display in the exquisite space designed by the a
ward-winning architect Jamie Fobert, whose projects include the Centre for Contemporary Culture in Moscow and an international design concept for Givenchy in Paris. And, if you "need" to spend the entire day there, then take a noontime break from the arduous task of trying on shoes and signing your name on a credit card slip and lunch at the tempting French eaterie, Aubaine, in the heart of the salon.
And to think that that genius of a man, Harry Gordon Selfridge, who started it all (he basically opened London's first department store), died penniless. If you want to hunker down on a crisp autumn night with a good read (with your tootsies nice and toasty in snuggly slippers purchased from the shop, no doubt), pick up Shopping Seduction & Mr. Selfridge, by Lindy Woodhead, and see how this merchandising mastermind achieved what he did. All went swimmingly well in his life--a life "of stern rectitude, early bedtimes and tireless work," according to Bill Bryson, in his book, Notes from a Small Island--until Mrs. Selfridge "closed her account," so to speak, and made her way to the Great Department Store in the Sky...and then all hell broke loose. According to Bryson, Harry "took up with a pair of Hungar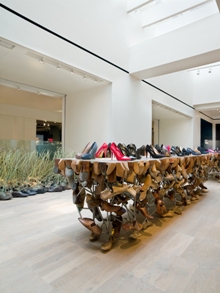 ian-American cuties known in music-hall circles as the Dolly Sisters." You fill in the blanks: Hello, Dolly; adios, moolah.
But, at least Harry left us with shoes...and a shopping haven that is never to be missed when in London.
Posted on September 21, 2010 - by
---
Reader Feedback - Be the first to kick-start this discussion...

Join the discussion... To register, please

click here



---
About the Author: About the Author: Ruth J. Katz is a well-known shopping and service writer based in New York City. She has written about shopping for 25 years for New York magazine; covered the topic on-air at Fox-TV for several years as the Home Services expert; and had her own show on both the USA and Lifetime Cable networks. Katz wrote extensively for The New York Times as well, and contributed periodically to the New York Daily News. She is a passionate shopper, always looking for not merely a good buy, but the best buy, ferreting out a "steal" or discovering up-and-coming designers. She has written five books and is a former contributing editor to Hearst's Redbook, Classic Home, and Colonial Homes; she is currently a Contributing Editor of New York Home, Golf Connoisseur, The Modern Estate, and Promenade magazines. She is also the former Shopping Director for Davler Media's Manhattan Living.

Recent Entries: