Stylish Dining: Fashion Plates to Wear and to Eat
Back to the Blog... | Post Feedback | Author Bio | Printer-Friendly
Starting this week, coinciding with Gotham's famed Mercedes-Benz Fashion Week, 21 ever-so-chic Upper West Side restaurants are offering their "Fashion Plate" deals on meals. There is a wide range of eateries participating, some with jaw-dropping, over-the-top menus -- places you've always wanted to try, but were hesitant. There are also deals for Fashion Week staff, and other, more affordable eateries where the crews working Fashion Week can get a delicious take-out meal to be eaten on the fly, with a deep discount. (That program is called Crew Cuts and it's for the staff of Fashion Week, who survive for eight days on air and take-out.) But Fashion Plate restaurants are open to all.
"The Lincoln Square community loves playing host to visitors from around the city and the world -- and our restaurants are always eager to offer special deals. Whether you have tickets to watch the runway shows, Fashion Plate is a fun and tasty way to celebrate," noted Monica Blum, president of the Lincoln Square Business Improvement District, which has spearheaded this program since its inception.
Fashion Plate Prix Fixe is open to all (just get yourself a reservation first, so you can be assured you get into your favorite places) for lunch, dinner, and brunches during Fashion Week. Some of New York City's newest hotspots, including Boulud Sud and The Leopard (in the old Café des Artistes spot) are participating. Many restaurants are offering outstanding menu options, such as Atlantic Grill's three-course prix-fixe lunch and dinner, for $24.07 and $35.00 respectively; A Voce's $29.00 three-course prix fixe lunch. I wrote up A Voce's ice creams, sorbets, and gelatos this summer, after having had a wonderful meal there, so I can vouch for the cuisine -- top notch!
Here is the complete list for the Fashion Plate participants:
A Voce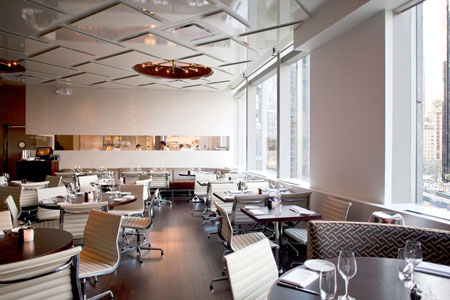 10 Columbus Circle, 3rd Floor

Time Warner Center
212.823.2523
www.avocerestaurant.com
Three Course Prix Fixe Lunch - $29.00
Atlantic Grill
49 West 64th Street just east of Broadway
212.787.4663
www.atlanticgrill.com
Three Course Prix Fixe - Lunch - $24.07 | Dinner - $35.00 (Not available on Saturday or Sunday)

Bar Boulud
1900 Broadway between 63rd and 64th Streets
212.595.0303
www.barboulud.com
Three Course Prix Fixe Lunch - $29.00
(Monday - Friday only)
Boulud Sud
20 West 64th Street between Broadway and Central Park West

212.595.1313
www.bouludsud.com

Two Course Prix Fixe Lunch - $29.00 (Monday - Friday only)

Café Fiorello

1900 Broadway between 63rd & 64th Streets

212.595.5330
www.cafefiorello.com
"Fashionistas Piattro Quadro" Four Course Prix Fixe Lunch & Dessert - $25.00 (Monday - Friday Only)
Three Course Prix Fixe Dinner - $35.00
Dizzy's Club Coca-Cola and Great Performances

Time Warner Center, 5th Floor

Broadway at 60th Street

212.258.9595
www.jalc.org/dccc

Three Course Prix Fixe Dinner - $36.00
Three Course Prix Fixe Dinner Plus Featured Cocktail - $42.00
Ed's Chowder House at the Empire Hotel

44 West 63rd Street between Broadway and Columbus Avenue

212.956.1288
www.chinagrillmgt.com

Three Course Prix Fixe - Lunch - $24.00 | Dinner - $35.00 (excluding Saturday)
Gabriel's Bar & Restaurant
11 West 60th Street just west of Broadway

212.956.4600
www.gabrielsbarandrest.com
Three Course Prix Fixe Lunch - $24.07 (closed Sunday)
Il Violino
180 Columbus Avenue at 68th Street

212.873.2500
www.ilviolinonyc.com

Prix Fixe Lunch $19.00 | Dinner $35.00
Jalapeno
185 Columbus Avenue between 68th and 69th Streets
212.877.7800
www.jalapenonyc.com
Three Course Prix Fixe Lunch - $20.11
The Leopard at des Artistes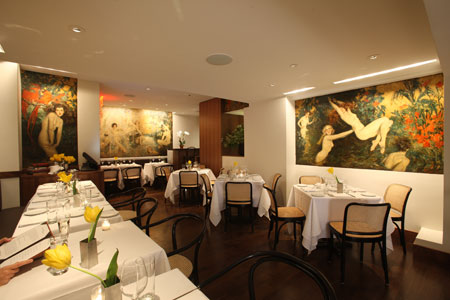 1 West 67th Street between Central Park West and Columbus Avenue
212.787.8767
www.theleopardnyc.com
Special Prix Fixe Lunch and Weekend Brunch - $30.00
Lansky's
235 Columbus Avenue between 70th and 71st Streets
212.787.0400
www.lanskysnyc.com
Three Course Prix Fixe Lunch - $20.11
Luce Restaurant & Enoteca
2014 Broadway between 68th and 69th Streets
212.724.1400
www.lucenyc.com
Three Course Prix Fixe Lunch or Dinner - $35.99

Nick and Toni's Café
100 West 67th Street between Broadway and Columbus Avenue
212.496.4000
www.nickandtoniscafe.com
Three Course Prix Fixe Lunch - $25.00
Picholine
35 West 64th Street between Broadway and Central Park West
212.724.8585
www.picholinenyc.com
Three Course Prix Fixe Menu (5:00-6:30pm)- $78
Four Course Tasting Menu (6:30pm - Close) - $92
Porter House New York
10 Columbus Circle, 4th Floor
Time Warner Center
212.823.9500
www.porterhousenewyork.com
Three Course Prix Fixe Lunch - $24.00
Rosa Mexicano
61 Columbus Avenue at 62nd Street
212.977.7700
www.rosamexicano.com
Three Course Prix Fixe
Lunch - $24.07| Dinner - $35.00
(not valid on Saturday)
Sapphire Indian Cuisine
1845 Broadway between 60th and 61st Streets
212.245.4444
www.sapphireny.com
Lunch Buffet - $15.95
Shun Lee West

43 West 65th Street just east of Broadway

212.595.8895
www.shunleewest.com

Prix Fixe lunch - $24.08
Sushi a-go-go

1900 Broadway between 63rd and 64th Streets

212.724.7340
www.sushiagogonyc.om
Three Course Prix Fixe Lunch - $20.11
Telepan
72 West 69th Street just east of Columbus Avenue
212.580.4300
www.telepan-ny.com
Three Course Prix Fixe Lunch - $25.00 (Wednesday - Friday only)
Posted on September 07, 2011 - by
Browse: Eat, Drink, and Be Merry

---
Reader Feedback - 1 Reply

Test, just a test
by @ 12/22/13, 01:45:29 PM

Join the discussion... To register, please

click here
---
About the Author: About the Author: Ruth J. Katz is a well-known shopping and service writer based in New York City. She has written about shopping for 25 years for New York magazine; covered the topic on-air at Fox-TV for several years as the Home Services expert; and had her own show on both the USA and Lifetime Cable networks. Katz wrote extensively for The New York Times as well, and contributed periodically to the New York Daily News. She is a passionate shopper, always looking for not merely a good buy, but the best buy, ferreting out a "steal" or discovering up-and-coming designers. She has written five books and is a former contributing editor to Hearst's Redbook, Classic Home, and Colonial Homes; she is currently a Contributing Editor of New York Home, Golf Connoisseur, The Modern Estate, and Promenade magazines. She is also the former Shopping Director for Davler Media's Manhattan Living.


Recent Entries: