Star Circus Clown Bello Nock Ready to Sock New Victory Audiences
Back to the Blog... | Post Feedback | Author Bio | Printer-Friendly
It's spring, which means it's annual circus time in New York and the surrounding region. The extensive renovation of Madison Square Garden has guaranteed that Ringling Bros. and Barnum & Bailey Circus, after a 140+ year tradition with the various Garden sites, won't ever play the site again unless it brings in a scaled-down show. So RBBB premieres their Built to Amaze edition at Brooklyn's spanking new Barclays Center beginning March 20. Cirque du Soleil has pitched its tent at Queens' Citi Field for the New York premiere of their long-touring show Totem. Our born and bred Big Apple Circus is in Bridgewater, NJ, through March 17; and come May 19 (into mid-June) will pitch its colorful tent in Fresh Meadows, Queens Cunningham Park. Come October, the Big Apple premieres its new show at Lincoln Center.
---
Circus favorite Bello, famous for daring antics and his signature skyscraper red hair (standing one foot high) -- and who's often referred to as the Don King of Clowns -- has his own show, and you only have to travel to Times Square and 42nd Street's New Victory Theatre March 15 - 31 for the U.S. premiere of Bello Mania.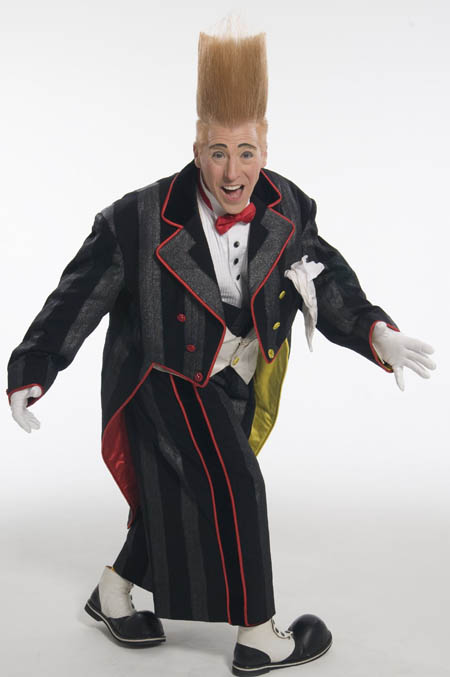 Named America's Best Clown by Time, and awarded the circus world's highest honor, the Gold Clown, at the Monte Carlo International Circus Festival, which was presented by Princess Stephanie, Bello Nock has been performing since age three, when he was the baby on the burning house in Disney on Parade's Dumbo's Circus. At 6, Bello toured as Michael Darling in Peter Pan, starring Cathy Rigby.

He's best known for appearances with the Big Apple and Ringling Bros. circuses, doing mad antics swinging from and atop a 90-foot pole, balancing a chair on a taunt high wire, or performing tricky, risky trampoline mayhem. If you close your eyes, which a lot of people did, you can hear the gasps from audiences for his daredevil high jinks.
"I've always wanted to create a show of my own that gives the audience a sneak peek into my crazy world," says Bello. "I love to wow audiences and hear their response. My goal is to entertain and amaze children of all ages with a unique blend of comedy and thrills."
New York holds "awesome memories," he says. In addition to his circus engagements, he walked a taut wire across Lincoln Center Plaza and did a spectacularly dangerous stunt hanging by his toes from a helicopter 500 feet up across the bay and over the Statue of Liberty. People were amazed that there wasn't a hair out of place, to which Bello joked, "It must be the Viagra in my shampoo!"

"There's no greater city in the world than New York," he says, "so it's such a pleasure to achieve my goal in a historical theatrical and intimate setting such as the New Victory."

The only thing that makes it sweeter is that Bello, who previously performed solo, is being joined by his daughter Annaliese, 16, who's following in her father's footsteps to become an eighth-generation performer born to a family of daredevils, ballerinas, equestrians and opera singers. However, she won't be trying to outdo do Dad with a gravity-defying hairdo.

It's actually a true family affair. His wife, Jennifer, writes and directs, and daughter Amariah is backstage as production stage manager. Bello also designs and builds his stunt riggings.
The 45-year-old clown was born Demetrius Alexandro Claudio Amadeus Bello Nock in Florida, a descendant of the family that founded Switzerland's Circus Nock in the 18th century. He performed with his family troupe, the Nerveless Nocks with their trademark routines on sway poles; and around the world. Bello first captivated audiences high, high, high up into circus tents at 15.

Bello is the most honored modern day circus celebrity. He's in the 2013 Guinness World Records for the first ever high wire walk over a cruise ship at sea; and won the Silver Clown in Monte Carlo, Switzerland's Gold Lion; and, among numerous other honors, France's Prix Special. He's worked the great circuses of the world and in 2007, as a Ringling Bros. star became the only person in the company's history to have a production named after him, Bellobration.

Bello Mania, which also features Dave Cox and Zebulon Fricke, will play 18 matinee and early evening shows at the New Victory. Tickets are $14 - $38 ($9 - $25 for New Victory members) and available at the box office, online at www.NewVictory.org (service fees apply), or calling (646) 223-3010. Purchase tickets to three or more current season shows and receive free membership and up to 35% savings on tickets. Visit the web site for performance schedule and more information.
View a Bello Mania video clip here. -- Ellis Nassour
Posted on March 14, 2013 - by
---
Reader Feedback - Be the first to kick-start this discussion...

Join the discussion... To register, please

click here



---
About the Author: A look at the city's biggest and most interesting museum and gallery openings, music events, performing arts, and much more.

Recent Entries: