Creatures of Light: Nature's Bioluminescence
03/31/12 through 01/06/13
The American Museum of Natural History
200 Central Park West Map
212-769-5100
31-03-2012 12:00:00
06-01-2013 12:00:00
America/New_York
Creatures of Light: Nature's Bioluminescence
The perpetually dark deep ocean comprises the vast majority of the planet's habitable environments where approximately 90 percent of the organisms are bioluminescent and provide the only source of light. Many of these environments are threatened habitats where organisms are in danger of disappearing, some before they have been discovered and studied. Creatures of Light introduces visitors to the astonishing variety of bioluminescent creatures; explores the different ways in which organisms glow, as well as explains the physics and chemistry of natural light; reveals how the ability to glow can be advantageous; and considers how scientists study -- and use -- bioluminescence. Visitors enter the exhibition through a forest of bioluminescent mushrooms surrounding a large-scale mushroom at the center. One section evokes a New England meadow on a summer night and highlights how fireflies use patterns of flashing light to communicate and attract mates; another invites visitors to peer into Waitomo Cave of New Zealand and learn how glowworms attract prey. The exhibition includes live flashlight fish that harbor bioluminescent bacteria. Creatures of Light also features an interactive environment that introduces visitors to the brilliant light displays of Mosquito Bay in Vieques, Puerto Rico, where high concentrations of microscopic dinoflagellates, a type of plankton, create a glowing, luminescent halo around anything that moves through the bay; and a large interactive image of the Bloody Bay coral wall in the Cayman Islands. A "deep sea theater" reveals the amazing diversity of living light that marine biologists have captured on camera including anglerfishes waving bioluminescent "lures" to attract prey and jellyfishes that light up like a flashing pinwheel when threatened. http://www.cityguideny.com/eventinfo.cfm?id=93526
The American Museum of Natural History
The American Museum of Natural History
This event has already taken place. Click here for the latest events.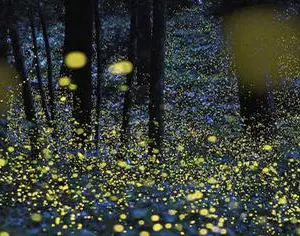 The perpetually dark deep ocean comprises the vast majority of the planet's habitable environments where approximately 90 percent of the organisms are bioluminescent and provide the only source of light. Many of these environments are threatened habitats where organisms are in danger of disappearing, some before they have been discovered and studied. Creatures of Light introduces visitors to the astonishing variety of bioluminescent creatures; explores the different ways in which organisms glow, as well as explains the physics and chemistry of natural light; reveals how the ability to glow can be advantageous; and considers how scientists study -- and use -- bioluminescence.
Visitors enter the exhibition through a forest of bioluminescent mushrooms surrounding a large-scale mushroom at the center. One section evokes a New England meadow on a summer night and highlights how fireflies use patterns of flashing light to communicate and attract mates; another invites visitors to peer into Waitomo Cave of New Zealand and learn how glowworms attract prey. The exhibition includes live flashlight fish that harbor bioluminescent bacteria.
Creatures of Light also features an interactive environment that introduces visitors to the brilliant light displays of Mosquito Bay in Vieques, Puerto Rico, where high concentrations of microscopic dinoflagellates, a type of plankton, create a glowing, luminescent halo around anything that moves through the bay; and a large interactive image of the Bloody Bay coral wall in the Cayman Islands. A "deep sea theater" reveals the amazing diversity of living light that marine biologists have captured on camera including anglerfishes waving bioluminescent "lures" to attract prey and jellyfishes that light up like a flashing pinwheel when threatened.
This event has already taken place. Click here for the latest events.
Upcoming Events at The American Museum of Natural History