Our Global Kitchen: Food, Nature, Culture at American Museum of Natural History
This event has already taken place. Click here for the latest events.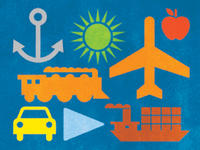 Food celebrates cultures and cooking, historic meals and markets, and moments in our lives that we mark with food -- as well as the ingredients that we have discovered and shaped over the course of thousands of years. As this exhibition takes visitors on a journey of growing, transporting, cooking, tasting, and celebrating, it also examines contemporary issues of environmental and human health, food security, feeding the world's growing population, and how we will eat in the future. Gallery 3, third floor.
Venue Description: A museum for the 21st century, with a rich and storied past and one of the greatest natural history museums in the world, with over 40 exhibition halls. Open daily from 10am to 5:45pm except on Thanksgiving and Christmas.
Upcoming Events
Articles About American Museum of Natural History