Wayne Brady Makin $#it Up
05/14/13 | 9:30pm
B.B. King Blues Club & Grill
237 W. 42nd St. Map
212-997-4144
$39.50 advance, $45 day of show
14-05-2013 12:00:00
14-05-2013 12:00:00
America/New_York
Wayne Brady Makin $#it Up | 9:30pm
Wayne Brady is an Emmy Award winning actor, Grammy nominated recording artist, improvisationalist, dancer, and television personality. His work can be seen on television or film, in the theater, or heard on the radio. Brady began his career in Orlando, Florida working for both the Disney World and Universal theme parks. He also performed in several community theatre shows and at the Orlando improv troupe SAK Comedy Lab. In 1998, Brady's career took off with "Whose Line Is It Anyway?" for which he won a 2003 Emmy Award for Outstanding Individual Performance in a Variety, Musical, or Comedy Series. Brady went on to host his own syndicated talk/variety show "The Wayne Brady Show" for two years. He picked up two Emmys for Outstanding Talk Show Host and the show also won an Emmy for Outstanding Talk Show. Brady has also hosted "Don't Forget the Lyrics" on Fox. Currently, Brady can be seen everyday on CBS as the host of the daytime classic "Let's Make A Deal," for which he's been nominated three years in a row for a Daytime Emmy for Best Game Show Host. Guest-starring roles include "The Dave Chappelle Show," "30 Rock," "How I Met Your Mother," "Real Husbands of Hollywood," and "Everybody Hates Chris." In film, Brady starred in the Screen Gems feature, "Crossover", and the independent feature "The List", a romantic comedy with Sydney Tamiia Poitier and Illeana Douglas. Brady was also featured in Fox Searchlight's "Roll Bounce'. Brady provided his voice for the animated feature "Foodfight!" and most recently as Clover for Disney's highest rated animated series, "Sofia The First". This summer he brings his fan favorite Whose Line Is It Anyway back to primetime. In 2005 Brady took the opportunity to return to his first love, musical theatre, and starred in the Broadway production of "Chicago," playing the role of Billy Flynn. In August 2010 he joined the all-star cast as Angel in the musical "Rent," performed at the Hollywood Bowl and directed by Neil Patrick Harris. This one-weekend event opened to sold out performances and outstanding reviews. After conquering television and theatre, Brady took on the recording industry and earned a 2008 Grammy nomination for Best Traditional R&B Vocal Performance for his single "A Change is Gonna Come" off his debut musical album "A Long Time Coming". He also released a children's album entitled "Radio Wayne" with Disney Records in May 2011, which reached the number one position on Itunes and Amazon Kid's charts. Currently he is working on his third album with a release date set for June 2013. Brady made a big splash in Vegas in 2009 with his hit stage show "Makin' It Up." The show was met with critical acclaim and has been heralded as "pure genius," "hysterically funny" and "amazing." Wayne has taken the show to venues across the country and overseas to South Africa, Australia, New Zealand, and India and is currently on tour in the states. http://www.cityguideny.com/eventinfo.cfm?id=135131
B.B. King Blues Club & Grill
B.B. King Blues Club & Grill
This event has already taken place. Click here for the latest events.
Wayne Brady is an Emmy Award winning actor, Grammy nominated recording artist, improvisationalist, dancer, and television personality. His work can be seen on television or film, in the theater, or heard on the radio.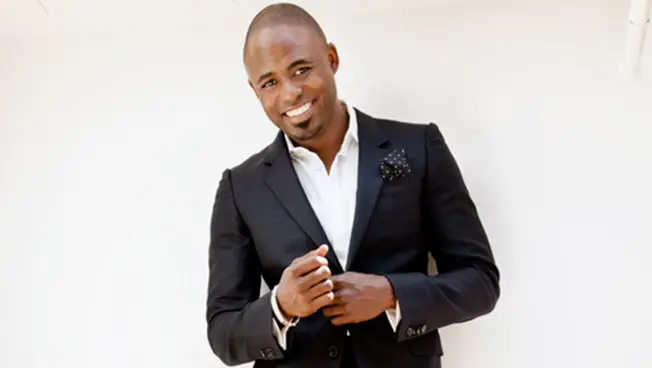 Brady began his career in Orlando, Florida working for both the Disney World and
Universal theme parks. He also performed in several community theatre shows and at the
Orlando improv troupe SAK Comedy Lab.
In 1998, Brady's career took off with "Whose Line Is It Anyway?" for which he won a
2003 Emmy Award for Outstanding Individual Performance in a Variety, Musical, or Comedy
Series. Brady went on to host his own syndicated talk/variety show "The Wayne Brady Show"
for two years. He picked up two Emmys for Outstanding Talk Show Host and the show also won
an Emmy for Outstanding Talk Show. Brady has also hosted "Don't Forget the Lyrics" on Fox.
Currently, Brady can be seen everyday on CBS as the host of the daytime classic "Let's Make A
Deal," for which he's been nominated three years in a row for a Daytime Emmy for Best Game
Show Host. Guest-starring roles include "The Dave Chappelle Show," "30 Rock," "How I Met
Your Mother," "Real Husbands of Hollywood," and "Everybody Hates Chris."
In film, Brady starred in the Screen Gems feature, "Crossover", and the independent
feature "The List", a romantic comedy with Sydney Tamiia Poitier and Illeana Douglas. Brady
was also featured in Fox Searchlight's "Roll Bounce'. Brady provided his voice for the animated feature "Foodfight!" and most recently as Clover for Disney's highest rated animated series, "Sofia The First". This summer he brings his fan favorite Whose Line Is It Anyway back to
primetime.
In 2005 Brady took the opportunity to return to his first love, musical theatre, and starred
in the Broadway production of "Chicago," playing the role of Billy Flynn. In August 2010 he
joined the all-star cast as Angel in the musical "Rent," performed at the Hollywood Bowl and
directed by Neil Patrick Harris. This one-weekend event opened to sold out performances and outstanding reviews.
After conquering television and theatre, Brady took on the recording industry and earned
a 2008 Grammy nomination for Best Traditional R&B Vocal Performance for his single "A
Change is Gonna Come" off his debut musical album "A Long Time Coming". He also released
a children's album entitled "Radio Wayne" with Disney Records in May 2011, which reached the
number one position on Itunes and Amazon Kid's charts. Currently he is working on his third
album with a release date set for June 2013.
Brady made a big splash in Vegas in 2009 with his hit stage show "Makin' It Up." The
show was met with critical acclaim and has been heralded as "pure genius," "hysterically funny"
and "amazing." Wayne has taken the show to venues across the country and overseas to South
Africa, Australia, New Zealand, and India and is currently on tour in the states.
Venue Description: A throwback to the fabled days of New York nightclubs, B.B. King Blues Club & Grill features top-caliber music stars and an American Continental menu with a Southern flair. The Showcase Room has video screens and state-of-the-art sound, table seating, a bar where you can snack and listen, and a dance floor. The Beatles Brunch is offered every Saturday at noon (doors at 11am), and doors open for the Gospel Brunch every Sunday at 12:30pm with music at 1:30pm.
This event has already taken place. Click here for the latest events.
Upcoming Events at B.B. King Blues Club & Grill