Cirque du Soleil - Totem at Citi Field
This event has already taken place. Click here for the latest events.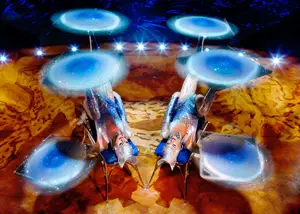 Written and directed by internationally renowned multidisciplinary artist Robert Lepage, TOTEM traces the fascinating journey of the human species from its original amphibian state to its ultimate desire to fly. Inspired by many founding myths, TOTEM illustrates, through a visual and acrobatic language, the evolutionary progress of species. Somewhere between science and legend TOTEM explores the ties that bind Man to other species, his dreams and his infinite potential.
From a group of 20 street performers at its beginnings in 1984, Cirque du Soleil is a major Québec-based organization providing high-quality artistic entertainment. The company has 5,000 employees, including more than 1,300 artists from more than 50 different countries.
Photos: OSA Images. Costumes: Kym Barrett. ©2010 Cirque du Soleil Inc.
Looking for Free Group Planning Services?
Get free advice on planning your group's trip to New York.