Kids n Comedy at Gotham Comedy Club
This event has already taken place. Click here for the latest events.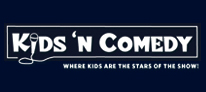 Every month Kids 'n Comedy presents a showcase of its best and brightest teenage stand-up grads at Gotham Comedy Club in Manhattan. We won't ask you to wear a tie. In fact, we hate ties. Nobody wearing a tie is allowed in. There, we've put our foot down. Come see the funniest young comedians in New York, and even get the chance to tell a joke yourself, live on stage. I mean, what else are you doing on a Sunday
Also, if it's your birthday, we'll give you a shout out on stage, and do our best to make all of your friends really jealous. KIDS 'N COMEDY is a great place to bring a birthday party (just make sure you give us 3 weeks notice.)
Appropriate for ages: 9yrs - really, really old. Lunch menu is available and served during the show.
Venue Description: Voted top-rated comedy club by the Daily News and best comedy club in NYC by NY Press. Emerged as NY's premier comedy venue. Legends like Jerry Seinfeld are known to drop in on this upscale yet intimate setting.
Articles About Gotham Comedy Club
Looking for Free Group Planning Services?
Get free advice on planning your group's trip to New York.