Michael Benson - Planetfall at Hasted Kraeutler
01/24/13 through 03/09/13 Tues.-Sat., 11am-6pm and by appt.
537 W. 24th St. Map
212-627-0006
hastedkraeutler.com
This event has already taken place. Click here for the latest events.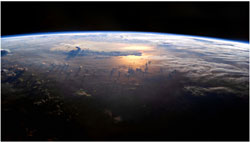 Photographer Michael Benson creates intensely detailed views of the solar system, by curating and composing images he finds by mining the vast archives of raw image data from robotic spaceflight. Planetfall focuses on images taken during the last twelve years by contemporary spacecraft such as the Cassini Saturn orbiter, the intrepid Mars rovers Spirit and Opportunity, and the Earth-orbiting Solar Dynamics Observatory.
Pictured: Michael Benson, Sun on the Pacific ISS 007 Crew, July 21, 2003, 2012
Venue Description: A Chelsea gallery featuring international contemporary art from emerging and established artists. Open Tues.-Sat., 11am-6pm and by appointment.
Looking for Free Group Planning Services?
Get free advice on planning your group's trip to New York.