Downtown Literary Festival
04/14/13
Housing Works Bookstore Cafe
126 Crosby St. Map
14-04-2013 12:00:00
14-04-2013 12:00:00
America/New_York
Downtown Literary Festival
Housing Works Bookstore Cafe and McNally Jackson Books are collaborating on the inaugural Downtown Literary Festival, a daylong celebration of the literary culture of New York City. The festival will take place at both bookstores simultaneously throughout the day on Sunday, April 14, 2013, followed by a happy hour mingle at Housing Works Bookstore and an after-party at Pravda, featuring Russian literature-themed cocktails. Why a Downtown Literary Festival? The goal of DLF is to showcase the literature and writers of New York City. We will aim to reflect the diversity and creativity that characterizes downtown NYC with a day of the non-traditional events for which McNally Jackson and Housing Works Bookstore each have become known. This panel-less festival will include: * a puppet show featuring stories of downtown life for the young ones * Tumblr's WPA guide update project, featuring Gabriel Kahane and Lapham's Quarterly * a virtual walking tour of the literature of downtown NYC with LitCrawl NYC * stories of the best NYC show ever from musicians and fans, curated by music writer Alan Light and featuring Thurston Moore * a celebration of the lost art of memorization and recitation with Rachel Syme and Maris Kreizman * a Frank O'Hara lunch hour featuring NYC poets Eileen Myles, Wayne Koestenbaum, Paul Legault and more * writers on their favorite bookstores, presented by PEN America * a short history of street food in NYC and stories from the street vendors themselves, presented by NYC a la Cart's Alexandra Penfold and Siobhan Wallace * live interviews and readings from the archive of The Paris Review * stories of the subway with John Wray, Charles Bock and Sophie Blackall * and a tour of downtown NYC through the years in pop culture with lit/TV blog Slaughterhouse 90210. http://www.cityguideny.com/eventinfo.cfm?id=132333
Housing Works Bookstore Cafe
Housing Works Bookstore Cafe
This event has already taken place. Click here for the latest events.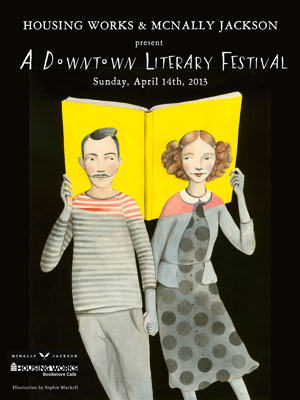 Housing Works Bookstore Cafe and McNally Jackson Books are collaborating on the inaugural Downtown Literary Festival, a daylong celebration of the literary culture of New York City. The festival will take place at both bookstores simultaneously throughout the day on Sunday, April 14, 2013, followed by a happy hour mingle at Housing Works Bookstore and an after-party at Pravda, featuring Russian literature-themed cocktails.
Why a Downtown Literary Festival? The goal of DLF is to showcase the literature and writers of New York City. We will aim to reflect the diversity and creativity that characterizes downtown NYC with a day of the non-traditional events for which McNally Jackson and Housing Works Bookstore each have become known. This panel-less festival will include:
* a puppet show featuring stories of downtown life for the young ones
* Tumblr's WPA guide update project, featuring Gabriel Kahane and Lapham's Quarterly
* a virtual walking tour of the literature of downtown NYC with LitCrawl NYC
* stories of the best NYC show ever from musicians and fans, curated by music writer Alan Light and featuring Thurston Moore
* a celebration of the lost art of memorization and recitation with Rachel Syme and Maris Kreizman
* a Frank O'Hara lunch hour featuring NYC poets Eileen Myles, Wayne Koestenbaum, Paul Legault and more
* writers on their favorite bookstores, presented by PEN America
* a short history of street food in NYC and stories from the street vendors themselves, presented by NYC a la Cart's Alexandra Penfold and Siobhan Wallace
* live interviews and readings from the archive of The Paris Review
* stories of the subway with John Wray, Charles Bock and Sophie Blackall
* and a tour of downtown NYC through the years in pop culture with lit/TV blog Slaughterhouse 90210.
This event has already taken place. Click here for the latest events.