Meet Astronaut Jerry L. Ross
01/31/13 | 7-8pm
Intrepid Sea, Air & Space Museum
Pier 86, W. 46th St. & 12th Ave. Map
212-245-0072
Free, RSVP online
31-01-2013 12:00:00
31-01-2013 12:00:00
America/New_York
Meet Astronaut Jerry L. Ross | 7-8pm
Join Jerry L. Ross, the most-launched astronaut in history, as he leads a free public discussion about his career with NASA, which spanned the entire U.S. space shuttle program, his personal experience reaching 1,293 hours in space, including 58 hours and 18 minutes on nine space walks, and the hard work and determination necessary to travel beyond this world. http://www.cityguideny.com/eventinfo.cfm?id=127576
Intrepid Sea, Air & Space Museum
Intrepid Sea, Air & Space Museum
This event has already taken place. Click here for the latest events.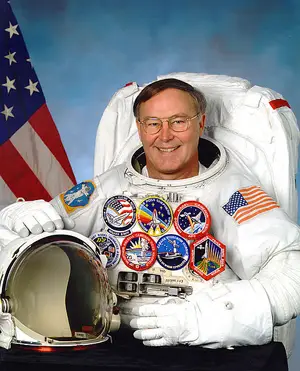 Join Jerry L. Ross, the most-launched astronaut in history, as he leads a free public discussion about his career with NASA, which spanned the entire U.S. space shuttle program, his personal experience reaching 1,293 hours in space, including 58 hours and 18 minutes on nine space walks, and the hard work and determination necessary to travel beyond this world.
Following the presentation, Ross will be available to sign copies of his new book, SPACEWALKER: My Journey in Space and Faith as NASA's Record-Setting Frequent Flyer.
The event is free and open to the public, though space is limited. Please RSVP at www.intrepidmuseum.org.
Venue Description: The Intrepid Sea, Air & Space Museum is a non-profit, educational institution featuring the legendary aircraft carrier Intrepid, the space shuttle Enterprise, the world's fastest jets and a guided missile submarine. Through exhibitions, educational programming and the foremost collection of technologically groundbreaking aircraft and vessels, visitors of all ages and abilities are taken on an interactive journey through history to learn about American innovation and bravery. The Intrepid Museum fulfills its mission to honor our heroes, educate the public and inspire our youth by connecting them to history through hands-on exploration while bridging the future by inspiring innovation.
This event has already taken place. Click here for the latest events.
Upcoming Events at Intrepid Sea, Air & Space Museum