Leo Villareal's BUCKYBALL
10/25/12 through 02/15/13
Madison Square Park
Madison Avenue Map
212-538-1884
25-10-2012 12:00:00
15-02-2013 12:00:00
America/New_York
Leo Villareal's BUCKYBALL
Madison Square Park Conservancy's Mad. Sq. Art program presents a new, monumental sculpture by world-renowned artist Leo Villareal. Largely inspired by the work of Buckminster Fuller, Villareal's BUCKYBALL applies concepts of geometry and mathematical relationships within a towering 30-foot tall, illuminated sculpture. http://www.cityguideny.com/eventinfo.cfm?id=127606
Madison Square Park
Madison Square Park
This event has already taken place. Click here for the latest events.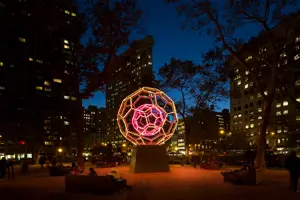 Madison Square Park Conservancy's Mad. Sq. Art program presents a new, monumental sculpture by world-renowned artist Leo Villareal. Largely inspired by the work of Buckminster Fuller, Villareal's BUCKYBALL applies concepts of geometry and mathematical relationships within a towering 30-foot tall, illuminated sculpture.
A commission of the Mad. Sq. Art program, Villareal's BUCKYBALL features two nested, geodesic sculptural spheres comprised of 180 LED tubes arranged in a series of pentagons and hexagons, known as a "Fullerene," referring to the form's discovery by Buckminster Fuller. Individual pixels located every 1.2 inches along the tubes are each capable of displaying 16 million distinct colors and are specifically tuned by the artist's own software, creating dynamic light sequences that enliven the natural landscape of the park. Relying on LED technologies driven by chance, BUCKYBALL's light sequences create exuberant, random compositions of varied speed, color, opacity, and scale. BUCKYBALL triggers neurological processes within the brain, calling on our natural impulse to identify patterns and gather meaning from our external environment.
Through basic elements such as pixels and binary codes, Villareal allows for a better understanding of the underlying structures and systems that govern everyday function. As he builds these simple elements into a full-scale sculptural installation that moves, changes, and interacts, the work ultimately grows into a complex, dynamic form that questions common notions of space, time, and sensorial pleasure.
Villareal's light sculpture is surrounded by zero-gravity couches that allow viewers to recline below the artwork. These couches are built out of wooden slats that mimic the construction method of adjacent park benches just as the pedestal on which BUCKYBALL rests emulates support structures found within the park's neighboring sculptural monuments.
This event has already taken place. Click here for the latest events.
Upcoming Events at Madison Square Park