Topsy-Turvy : A Camera Obscura by Sandra Gibson and Luis Recoder at Madison Square Park
This event has already taken place. Click here for the latest events.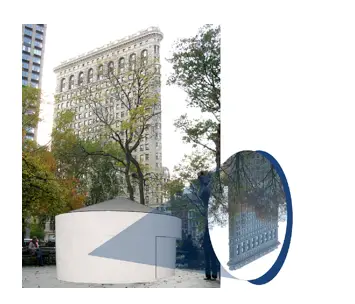 Topsy-Turvy: A Camera Obscura Installation (2013) by New York-based artists Sandra Gibson and Luis Recoder will inaugurate Madison Square Park Conservancy's Mad. Sq. Art's spring 2013 season.
The piece will reimagine one of the world's oldest moving image devices into a life-sized 10-foot by 10-foot structure. Park visitors will be able to enter the interactive, large-scale installation, which will utilize the physical properties of light to capture images of the surrounding Flatiron District in real time. This centuries-old artistic medium will alter how visitors experience the park and engage with the various elements of New York City's urban landscape through a new and exciting lens.
Articles About Madison Square Park
Looking for Free Group Planning Services?
Get free advice on planning your group's trip to New York.