10/06/14 through 10/10/14
Museum of Arts & Design
2 Columbus Circle Map
212-299-7777
06-10-2014 12:00:00
10-10-2014 12:00:00
America/New_York
LOOT: MAD About Jewelry
Now, in its 14th year, LOOT: MAD About Jewelry, MAD's juried selling exhibition of artist-made jewelry, has earned the reputation of being the ultimate pop-up shop for contemporary art and studio jewelry by both artists and collectors alike. LOOT will feature a range of work, including inventive pieces in gold, sterling silver, and semiprecious stones alongside jewelry made of unexpected materials such as titanium, stainless steel, glass, wood, rubber, fabric, and found objects. Unlike any other jewelry event in the country, LOOT gives jewelry lovers the opportunity to meet some of the most innovative creators in the field and acquire work directly from them. Last year, MAD honored fashion icons Iris Apfel and Barbara Berger with LOOT Awards for Contemporary Art Jewelry. This annual prize is in keeping with the long-standing commitment of the Museum of Arts and Design to present jewelry as an art form. MAD is the only American museum to possess a gallery dedicated to the display of both temporary jewelry exhibits and its own collection of contemporary and modern studio and art jewelry, which it began assembling soon after its founding in 1956. To date, LOOT has showcased famous jewelry artists like Eva Eisler, Robert Lee Morris and Kara Ross along with newer names - thus becoming an important platform to launch the careers of many young, cutting-edge creators from around the globe. In 2013, 50 jewelry artists from 20 countries - including Argentina, Denmark, Indonesia, Japan, Poland, South Africa, South Korea, and the United Kingdom - participated. This year's participating LOOT artists and LOOT Award recipient will be announced in the spring. http://www.cityguideny.com/eventinfo.cfm?id=128191
Museum of Arts & Design
Museum of Arts & Design
This event has already taken place. Click here for the latest events.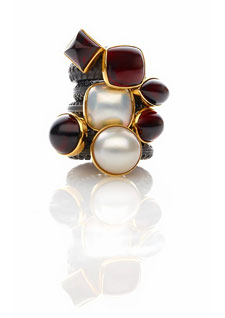 Now, in its 14th year, LOOT: MAD About Jewelry, MAD's juried selling exhibition of artist-made jewelry, has earned the reputation of being the ultimate pop-up shop for contemporary art and studio jewelry by both artists and collectors alike. LOOT will feature a range of work, including inventive pieces in gold, sterling silver, and semiprecious stones alongside jewelry made of unexpected materials such as titanium, stainless steel, glass, wood, rubber, fabric, and found objects. Unlike any other jewelry event in the country, LOOT gives jewelry lovers the opportunity to meet some of the most innovative creators in the field and acquire work directly from them.
Last year, MAD honored fashion icons Iris Apfel and Barbara Berger with LOOT Awards for Contemporary Art Jewelry. This annual prize is in keeping with the long-standing commitment of the Museum of Arts and Design to present jewelry as an art form. MAD is the only American museum to possess a gallery dedicated to the display of both temporary jewelry exhibits and its own collection of contemporary and modern studio and art jewelry, which it began assembling soon after its founding in 1956.
To date, LOOT has showcased famous jewelry artists like Eva Eisler, Robert Lee Morris and Kara Ross along with newer names - thus becoming an important platform to launch the careers of many young, cutting-edge creators from around the globe. In 2013, 50 jewelry artists from 20 countries - including Argentina, Denmark, Indonesia, Japan, Poland, South Africa, South Korea, and the United Kingdom - participated.
Highlights from LOOT 2014 include:
Designer Jeffrey Lloyd Dever's works, shaped by the hills, orchards, streams and woodlands of his childhood in Maryland, are sculptural studies in homage to a natural wonderland. Each piece starts as a series of sketches that then mature into three-dimensional shapes built layer by layer from brightly colored polymer clay.
Colombian designer Virginia Escobar draws inspiration from the feelings and emotions that she experiences at specific moments of her life—following instinct and sensation, rather than reason or knowledge to create pieces that are derived from her intuition. Working with a variety of materials from silver to eggshells, Escobar crafts jewelry that communicates through the language of adornment.
Based in Tasmania's Huon Valley, designer Linda van Niekerk's distinctive style is characterized by clean lines and sculptural volumes paired with the use of unconventional materials. Niekerk's work evokes a strong sense of place, often incorporating precious Tasmanian timbers and reflecting an African aesthetic.
Experimenting with the unorthodox materials such as concrete and stainless steel, Canadian jeweler Karen Konzuk's designs are presented through a studied use of clean lines and an unwavering commitment to a minimalist aesthetic that reflect her keen interest in industrial design and architecture.
Inspired by the everyday, German artist, painter and designer Dominique Labordery's works feature a minimalist use of color and ornamentation. The resulting forms, crafted of metal and quartz, are deceptively simple, drawing the viewer into their subtle irregularities and unexpected contrasts of light and texture.
Italian jeweler Anna Porcu's knowledge of antique artifacts and eye for detail inspires her collection of jewelry that features rare antique cameos. Searching the world for museum-quality cameos in materials including shell, ivory, amber, agate and lava, Porcu re-crafts the cameos' original settings, adding sterling silver and sometimes gold, and transforms each piece by placing it on a contemporary backdrop of leather.
This event has already taken place. Click here for the latest events.