Eyes Closed/Eyes Open: Recent Acquisitions in Drawings
08/08/12 through 01/28/13
Museum of Modern Art (MoMA)
11 W. 53rd St. Map
212-708-9400
08-08-2012 12:00:00
28-01-2013 12:00:00
America/New_York
Eyes Closed/Eyes Open: Recent Acquisitions in Drawings
This exhibition is culled from the past two years of acquisitions by MoMA's Department of Drawings. Anchored in various explorations of the late 1960s, these works reveal a range of creative, intellectual, and critical impulses -- whether serving as an intimate record of the artist's practice, or purposefully crafted to address an assumed wider audience. German artist Franz Erhard Walther created a suite of "work drawings" to illustrate (both functionally and conceptually) his First Work Series (1963-69), a group of 58 interactive sculptural objects, on display at the Museum for the first time since their original presentation here in 1969. While roughly contemporary, Willem de Kooning's "Eyes-Closed" drawings of 1966, which were sketched blindly by the artist, offer a counterpoint to Walther's project and seem to embrace the traditional role of drawing as a tool of private expression, while Martha Rosler's Bringing the War Home: House Beautiful photomontage series of 1967-72 turns a critical eye to the era's sociopolitical context and expanding media sphere. http://www.cityguideny.com/eventinfo.cfm?id=115726
Museum of Modern Art (MoMA)
Museum of Modern Art (MoMA)
This event has already taken place. Click here for the latest events.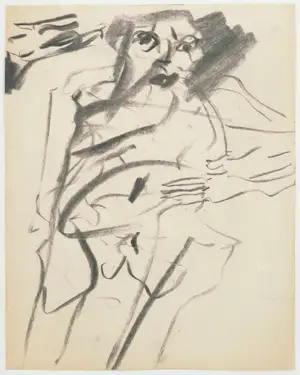 This exhibition is culled from the past two years of acquisitions by MoMA's Department of Drawings. Anchored in various explorations of the late 1960s, these works reveal a range of creative, intellectual, and critical impulses -- whether serving as an intimate record of the artist's practice, or purposefully crafted to address an assumed wider audience. German artist Franz Erhard Walther created a suite of "work drawings" to illustrate (both functionally and conceptually) his First Work Series (1963-69), a group of 58 interactive sculptural objects, on display at the Museum for the first time since their original presentation here in 1969. While roughly contemporary, Willem de Kooning's "Eyes-Closed" drawings of 1966, which were sketched blindly by the artist, offer a counterpoint to Walther's project and seem to embrace the traditional role of drawing as a tool of private expression, while Martha Rosler's Bringing the War Home: House Beautiful photomontage series of 1967-72 turns a critical eye to the era's sociopolitical context and expanding media sphere.
Pictured: Willem de Kooning. Untitled. 1966. Charcoal on paper, 10 x 8″ (25.4 x 20.3 cm). Gift of Jan Christiaan Braun in honor of Rudi Fuchs. © 2012 The Willem de Kooning Foundation/Artists Rights Society (ARS), New York
Venue Description: MoMA's rich and varied collection constitutes one of the most comprehensive and panoramic views into modern art in the world, and has grown to include over 135,000 paintings, prints, photographs, drawings, sculptures, films, and design objects. Visitors to New York City should make sure to stop in and view the collection during their vacations. Founded in 1929 as an educational institution, The Museum of Modern Art is dedicated to being the foremost museum of modern art in the world. Central to The Museum of Modern Art's mission is the encouragement of an ever-deeper understanding and enjoyment of modern and contemporary art by the diverse local, national, and international audiences that it serves. The Museum of Modern Art seeks to create a dialogue between the established and the experimental, the past and the present, in an environment that is responsive to the issues of modern and contemporary art, while being accessible to a public that ranges from scholars to young children. MoMA also has three restaurants on the premises: Café 2, is the museum's sophisticated cafeteria; Terrace 5 is a full-service café where guests can indulge in creative savory selections, delectable pastries and ice cream sundaes, inventive specialty cocktails, micro-brewed beers, and carefully selected wines; and The Modern offers the original, Alsatian-inspired cuisine of Chef Gabriel Kreuther, recently awarded three stars by The New York Times.
Museum Hours: Tues.-Mon., 10:30am-5:30pm; Fri., 10:30am-8pm (free entry 4-8pm for UNIQLO Free Friday Nights).
This event has already taken place. Click here for the latest events.
Upcoming Events at Museum of Modern Art (MoMA)