01/23/13 through 03/11/13
Museum of Modern Art (MoMA)
11 W. 53rd St. Map
212-708-9400
23-01-2013 12:00:00
11-03-2013 12:00:00
America/New_York
Wolfgang Laib
Wolfgang Laib's Pollen from Hazelnut will inhabit the Museum's Donald B. and Catherine C. Marron Atrium, infusing the space with a yellow luminosity. Laib perceives the Marron Atrium as the Museum's inner sanctum, its womb, and has created this work especially for the site. It will be the artist's largest pollen installation to date, measuring approximately 18 x 21 feet. The hazelnut pollen that will be used in MoMA's installation has been collected by Laib from the natural environment around his home and studio, in a small village in southern Germany, since the mid-1990s. Since the mid-1970s, Laib (German, b. 1950) has been producing sculptures and installations marked by a serene presence and a reductive beauty. These works are often made from one or a combination of two materials, accumulated from natural elements -- such as milk, marble, pollen, rice, and beeswax -- which have been selected for their purity and symbolic associations. Forging a singular path for more than 30 years, Laib amplifies the intrinsic materials and processes found in nature. Laib has stated that "pollen is the potential beginning of the life of the plant. It is as simple, as beautiful, and as complex as this. And of course it has so many meanings. I think everybody who lives knows that pollen is important." http://www.cityguideny.com/eventinfo.cfm?id=126695
Museum of Modern Art (MoMA)
Museum of Modern Art (MoMA)
This event has already taken place. Click here for the latest events.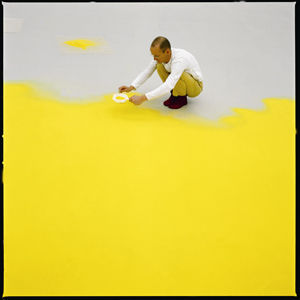 Wolfgang Laib's Pollen from Hazelnut will inhabit the Museum's Donald B. and Catherine C. Marron Atrium, infusing the space with a yellow luminosity. Laib perceives the Marron Atrium as the Museum's inner sanctum, its womb, and has created this work especially for the site. It will be the artist's largest pollen installation to date, measuring approximately 18 x 21 feet. The hazelnut pollen that will be used in MoMA's installation has been collected by Laib from the natural environment around his home and studio, in a small village in southern Germany, since the mid-1990s.
Since the mid-1970s, Laib (German, b. 1950) has been producing sculptures and installations marked by a serene presence and a reductive beauty. These works are often made from one or a combination of two materials, accumulated from natural elements -- such as milk, marble, pollen, rice, and beeswax -- which have been selected for their purity and symbolic associations. Forging a singular path for more than 30 years, Laib amplifies the intrinsic materials and processes found in nature. Laib has stated that "pollen is the potential beginning of the life of the plant. It is as simple, as beautiful, and as complex as this. And of course it has so many meanings. I think everybody who lives knows that pollen is important."
Pictured: Wolfgang Laib sifting hazelnut pollen, 1992. Courtesy Sperone Westwater Gallery, New York.
Venue Description: MoMA's rich and varied collection constitutes one of the most comprehensive and panoramic views into modern art in the world, and has grown to include over 135,000 paintings, prints, photographs, drawings, sculptures, films, and design objects. Visitors to New York City should make sure to stop in and view the collection during their vacations. Founded in 1929 as an educational institution, The Museum of Modern Art is dedicated to being the foremost museum of modern art in the world. Central to The Museum of Modern Art's mission is the encouragement of an ever-deeper understanding and enjoyment of modern and contemporary art by the diverse local, national, and international audiences that it serves. The Museum of Modern Art seeks to create a dialogue between the established and the experimental, the past and the present, in an environment that is responsive to the issues of modern and contemporary art, while being accessible to a public that ranges from scholars to young children. MoMA also has three restaurants on the premises: Café 2, is the museum's sophisticated cafeteria; Terrace 5 is a full-service café where guests can indulge in creative savory selections, delectable pastries and ice cream sundaes, inventive specialty cocktails, micro-brewed beers, and carefully selected wines; and The Modern offers the original, Alsatian-inspired cuisine of Chef Gabriel Kreuther, recently awarded three stars by The New York Times.
Museum Hours: Tues.-Mon., 10:30am-5:30pm; Fri., 10:30am-8pm (free entry 4-8pm for UNIQLO Free Friday Nights).
This event has already taken place. Click here for the latest events.
Upcoming Events at Museum of Modern Art (MoMA)