Wait, Later This Will Be Nothing: Editions by Dieter Roth
02/17/13 through 06/24/13
Museum of Modern Art (MoMA)
11 W. 53rd St. Map
212-708-9400
17-02-2013 12:00:00
24-06-2013 12:00:00
America/New_York
Wait, Later This Will Be Nothing: Editions by Dieter Roth
The artistic practice of Dieter Roth (Swiss, b. Germany, 1930-1998) encompassed everything from painting and sculpture to film and video, but it is arguably through his editioned works -- prints, books, and multiples -- that he made his most radical contributions. These experiments include the use of organic materials in lieu of traditional mediums, including book-sausages filled with ground paper in place of meat, and multiples of plastic toys mired in melted chocolate, as well as a dazzling array of variations on printed postcards. Wait, Later This Will Be Nothing: Editions by Dieter Roth focuses on Roth's incredibly innovative and prolific period from 1960 to 1975. The centerpiece of the exhibition is an expanded presentation of Snow (1963-69), a Roth artist's book in MoMA's collection, featuring many more pages of the book than have ever been exhibited. These pages contain a trove of insightful information about the artist's creative process and plans for other works. A selection of handmade books, miniature volumes, and the newly acquired Literaturwurst (1961-69), considered Roth's most radical experiment with the book format, will also be on view. Beginning in the late 1960s, the artist began working with chocolate, a material that became intimately associated with his work, as he explored issues of decay and decomposition. Taken together, this selection of works offers a radical view of mediums that are historically considered staid and traditional, while giving insight into the work of one of the artistic titans of the 20th century. http://www.cityguideny.com/eventinfo.cfm?id=126697
Museum of Modern Art (MoMA)
Museum of Modern Art (MoMA)
This event has already taken place. Click here for the latest events.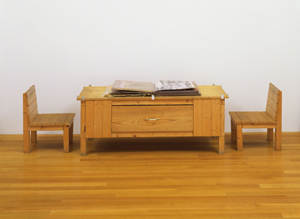 The artistic practice of Dieter Roth (Swiss, b. Germany, 1930-1998) encompassed everything from painting and sculpture to film and video, but it is arguably through his editioned works -- prints, books, and multiples -- that he made his most radical contributions. These experiments include the use of organic materials in lieu of traditional mediums, including book-sausages filled with ground paper in place of meat, and multiples of plastic toys mired in melted chocolate, as well as a dazzling array of variations on printed postcards.
Wait, Later This Will Be Nothing: Editions by Dieter Roth focuses on Roth's incredibly innovative and prolific period from 1960 to 1975. The centerpiece of the exhibition is an expanded presentation of Snow (1963-69), a Roth artist's book in MoMA's collection, featuring many more pages of the book than have ever been exhibited. These pages contain a trove of insightful information about the artist's creative process and plans for other works. A selection of handmade books, miniature volumes, and the newly acquired Literaturwurst (1961-69), considered Roth's most radical experiment with the book format, will also be on view. Beginning in the late 1960s, the artist began working with chocolate, a material that became intimately associated with his work, as he explored issues of decay and decomposition. Taken together, this selection of works offers a radical view of mediums that are historically considered staid and traditional, while giving insight into the work of one of the artistic titans of the 20th century.
Pictured: Dieter Roth (Swiss, born Germany. 1930-1998). Snow. 1963-69. Mixed mediums on paper in plastic sleeves bound as book with metal screws and plastic tubing, wood commode, two wood chairs, and six glue, ink, and paper collages on board. The Museum of Modern Art. Committee on Painting and Sculpture Funds, 1998. © 2012 Estate of Dieter Roth
Venue Description: MoMA's rich and varied collection constitutes one of the most comprehensive and panoramic views into modern art in the world, and has grown to include over 135,000 paintings, prints, photographs, drawings, sculptures, films, and design objects. Visitors to New York City should make sure to stop in and view the collection during their vacations. Founded in 1929 as an educational institution, The Museum of Modern Art is dedicated to being the foremost museum of modern art in the world. Central to The Museum of Modern Art's mission is the encouragement of an ever-deeper understanding and enjoyment of modern and contemporary art by the diverse local, national, and international audiences that it serves. The Museum of Modern Art seeks to create a dialogue between the established and the experimental, the past and the present, in an environment that is responsive to the issues of modern and contemporary art, while being accessible to a public that ranges from scholars to young children. MoMA also has three restaurants on the premises: Café 2, is the museum's sophisticated cafeteria; Terrace 5 is a full-service café where guests can indulge in creative savory selections, delectable pastries and ice cream sundaes, inventive specialty cocktails, micro-brewed beers, and carefully selected wines; and The Modern offers the original, Alsatian-inspired cuisine of Chef Gabriel Kreuther, recently awarded three stars by The New York Times.
Museum Hours: Tues.-Mon., 10:30am-5:30pm; Fri., 10:30am-8pm (free entry 4-8pm for UNIQLO Free Friday Nights).
This event has already taken place. Click here for the latest events.
Upcoming Events at Museum of Modern Art (MoMA)