Abstract Generation: Now in Print
03/15/13 through 06/24/13
Museum of Modern Art (MoMA)
11 W. 53rd St. Map
212-708-9400
15-03-2013 12:00:00
24-06-2013 12:00:00
America/New_York
Abstract Generation: Now in Print
Since the early 20th century, abstraction has been associated with so many artistic movements, from Suprematism and Constructivism to Abstract Expressionism and Op art, that it can no longer be defined by any one style or tradition. Indeed, abstraction exists now as a rich and varied trove of formal languages and ideas -- an open source of inspiration that extends well beyond the boundaries of art. This exhibition focuses on the print medium, highlighting ways in which abstraction has played a generative role in works of the past decade. Featuring prints, artists' books, and multiples from the Museum's collection -- by artists such as Cory Arcangel, Tauba Auerbach, Philippe Decrauzat, Liam Gillick, Wade Guyton, Nadia Kaabi-Linke, R. H. Quaytman, and Haegue Yang -- Abstract Generation examines contemporary notions of abstraction through a range of contemporary practices. http://www.cityguideny.com/eventinfo.cfm?id=126696
Museum of Modern Art (MoMA)
Museum of Modern Art (MoMA)
This event has already taken place. Click here for the latest events.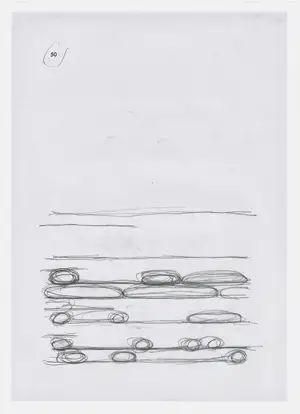 Since the early 20th century, abstraction has been associated with so many artistic movements, from Suprematism and Constructivism to Abstract Expressionism and Op art, that it can no longer be defined by any one style or tradition. Indeed, abstraction exists now as a rich and varied trove of formal languages and ideas -- an open source of inspiration that extends well beyond the boundaries of art. This exhibition focuses on the print medium, highlighting ways in which abstraction has played a generative role in works of the past decade. Featuring prints, artists' books, and multiples from the Museum's collection -- by artists such as Cory Arcangel, Tauba Auerbach, Philippe Decrauzat, Liam Gillick, Wade Guyton, Nadia Kaabi-Linke, R. H. Quaytman, and Haegue Yang -- Abstract Generation examines contemporary notions of abstraction through a range of contemporary practices.
Pictured: Haegue Yang (Korean, both 1971). Untitled from Traces of anonymous pupil authors. 2001. One from a portfolio of 16 offset lithographs, each 17 5/16 x 12 1/2″ (44 x 31.7 cm). Publisher: Wiens Verlag. Printer: unknown, Frankfurt. Edition: 30. The Museum of Modern Art, New York. Committee on Prints and Illustrated Books Fund. © 2012 Haegue Yang
Venue Description: MoMA's rich and varied collection constitutes one of the most comprehensive and panoramic views into modern art in the world, and has grown to include over 135,000 paintings, prints, photographs, drawings, sculptures, films, and design objects. Visitors to New York City should make sure to stop in and view the collection during their vacations. Founded in 1929 as an educational institution, The Museum of Modern Art is dedicated to being the foremost museum of modern art in the world. Central to The Museum of Modern Art's mission is the encouragement of an ever-deeper understanding and enjoyment of modern and contemporary art by the diverse local, national, and international audiences that it serves. The Museum of Modern Art seeks to create a dialogue between the established and the experimental, the past and the present, in an environment that is responsive to the issues of modern and contemporary art, while being accessible to a public that ranges from scholars to young children. MoMA also has three restaurants on the premises: Café 2, is the museum's sophisticated cafeteria; Terrace 5 is a full-service café where guests can indulge in creative savory selections, delectable pastries and ice cream sundaes, inventive specialty cocktails, micro-brewed beers, and carefully selected wines; and The Modern offers the original, Alsatian-inspired cuisine of Chef Gabriel Kreuther, recently awarded three stars by The New York Times.
Museum Hours: Tues.-Mon., 10:30am-5:30pm; Fri., 10:30am-8pm (free entry 4-8pm for UNIQLO Free Friday Nights).
This event has already taken place. Click here for the latest events.
Upcoming Events at Museum of Modern Art (MoMA)