American Modern: Hopper to O'Keefe
08/17/13 through 01/26/14
Museum of Modern Art (MoMA)
11 W. 53rd St. Map
212-708-9400
17-08-2013 12:00:00
26-01-2014 12:00:00
America/New_York
American Modern: Hopper to O'Keefe
Drawn from MoMA's collection, American Modern takes a fresh look at the Museum's holdings of American art made between 1915 and 1950, and considers the cultural preoccupations of a rapidly changing American society in the first half of the 20th century. Including paintings, drawings, prints, photographs, sculptures, and films, American Modern brings together some of the Museum's most celebrated masterworks, contextualizing them across mediums and amid lesser-seen but revelatory works by artists who expressed compelling emotional and visual tendencies of the time. The selection of works depicts subjects as diverse as urban and rural landscapes, scenes of industry, still-life compositions, and portraiture, and is organized thematically, with visual connections trumping strict chronology. Artists represented include George Bellows, Stuart Davis, Edward Hopper, Georgia O'Keeffe, Charles Sheeler, Alfred Stieglitz, and Andrew Wyeth, among many others. Far from an encyclopedic view of American art of the period, the exhibition is a focused look at the strengths and surprises of MoMA's collection in an area that has played a major role in the institution?s history. http://www.cityguideny.com/eventinfo.cfm?id=126704
Museum of Modern Art (MoMA)
Museum of Modern Art (MoMA)
This event has already taken place. Click here for the latest events.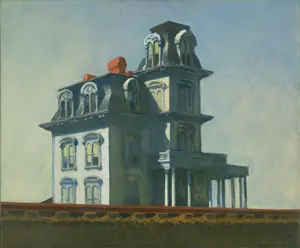 Drawn from MoMA's collection, American Modern takes a fresh look at the Museum's holdings of American art made between 1915 and 1950, and considers the cultural preoccupations of a rapidly changing American society in the first half of the 20th century. Including paintings, drawings, prints, photographs, sculptures, and films, American Modern brings together some of the Museum's most celebrated masterworks, contextualizing them across mediums and amid lesser-seen but revelatory works by artists who expressed compelling emotional and visual tendencies of the time.
The selection of works depicts subjects as diverse as urban and rural landscapes, scenes of industry, still-life compositions, and portraiture, and is organized thematically, with visual connections trumping strict chronology. Artists represented include George Bellows, Stuart Davis, Edward Hopper, Georgia O'Keeffe, Charles Sheeler, Alfred Stieglitz, and Andrew Wyeth, among many others. Far from an encyclopedic view of American art of the period, the exhibition is a focused look at the strengths and surprises of MoMA's collection in an area that has played a major role in the institution's history.
Pictured: Edward Hopper (American, 1882-1967). House by the Railroad. 1925. Oil on canvas. 24 x 29″ (61 x 73.7 cm). The Museum of Modern Art, New York. Given anonymously. Digital Image © The Museum of Modern Art, New York, Digital Imaging Studio
Venue Description: MoMA's rich and varied collection constitutes one of the most comprehensive and panoramic views into modern art in the world, and has grown to include over 135,000 paintings, prints, photographs, drawings, sculptures, films, and design objects. Visitors to New York City should make sure to stop in and view the collection during their vacations. Founded in 1929 as an educational institution, The Museum of Modern Art is dedicated to being the foremost museum of modern art in the world. Central to The Museum of Modern Art's mission is the encouragement of an ever-deeper understanding and enjoyment of modern and contemporary art by the diverse local, national, and international audiences that it serves. The Museum of Modern Art seeks to create a dialogue between the established and the experimental, the past and the present, in an environment that is responsive to the issues of modern and contemporary art, while being accessible to a public that ranges from scholars to young children. MoMA also has three restaurants on the premises: Café 2, is the museum's sophisticated cafeteria; Terrace 5 is a full-service café where guests can indulge in creative savory selections, delectable pastries and ice cream sundaes, inventive specialty cocktails, micro-brewed beers, and carefully selected wines; and The Modern offers the original, Alsatian-inspired cuisine of Chef Gabriel Kreuther, recently awarded three stars by The New York Times.
Museum Hours: Tues.-Mon., 10:30am-5:30pm; Fri., 10:30am-8pm (free entry 4-8pm for UNIQLO Free Friday Nights).
This event has already taken place. Click here for the latest events.
Upcoming Events at Museum of Modern Art (MoMA)