Magritte: The Mystery of the Ordinary, 1926-1938
09/28/13 through 01/12/14
Museum of Modern Art (MoMA)
11 W. 53rd St. Map
212-708-9400
28-09-2013 12:00:00
12-01-2014 12:00:00
America/New_York
Magritte: The Mystery of the Ordinary, 1926-1938
This exhibition, organized in collaboration with The Menil Collection, Houston, and The Art Institute of Chicago, is the first to focus exclusively on the breakthrough Surrealist years of Rene Magritte, creator of some of the 20th century's most extraordinary images. Beginning in 1926, when Magritte first aimed to create paintings that would, in his words, "challenge the real world," and concluding in 1938 -- a historically and biographically significant moment just prior to the outbreak of World War II -- the exhibition traces central strategies and themes from the most inventive and experimental period in the artist?s prolific career. Displacement, transformation, metamorphosis, the "misnaming" of objects, and the representation of visions seen in half-waking states are among Magritte's innovative image-making tactics during these essential years. Bringing together some 80 paintings, collages, and objects, along with a selection of photographs, periodicals, and early commercial work, the exhibition offers fresh insight into Magritte's identity as a modern painter and Surrealist artist. A richly illustrated catalogue accompanies the exhibition. http://www.cityguideny.com/eventinfo.cfm?id=126705
Museum of Modern Art (MoMA)
Museum of Modern Art (MoMA)
This event has already taken place. Click here for the latest events.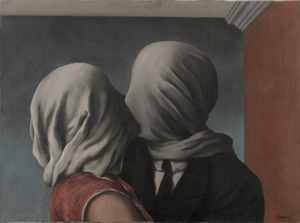 This exhibition, organized in collaboration with The Menil Collection, Houston, and The Art Institute of Chicago, is the first to focus exclusively on the breakthrough Surrealist years of Rene Magritte, creator of some of the 20th century's most extraordinary images. Beginning in 1926, when Magritte first aimed to create paintings that would, in his words, "challenge the real world," and concluding in 1938 -- a historically and biographically significant moment just prior to the outbreak of World War II -- the exhibition traces central strategies and themes from the most inventive and experimental period in the artist's prolific career. Displacement, transformation, metamorphosis, the "misnaming" of objects, and the representation of visions seen in half-waking states are among Magritte's innovative image-making tactics during these essential years.
Bringing together some 80 paintings, collages, and objects, along with a selection of photographs, periodicals, and early commercial work, the exhibition offers fresh insight into Magritte's identity as a modern painter and Surrealist artist. A richly illustrated catalogue accompanies the exhibition.
Pictured: Rene Magritte, The Lovers, 1928. Le Perreux-sur-Marne, 1928. Oil on canvas, 21 3/8 x 28 7/8″ (54 x 73.4 cm). Gift of Richard S. Zeisler. © 2012 C. Herscovici, Brussels / Artists Rights Society (ARS), New York
Venue Description: MoMA's rich and varied collection constitutes one of the most comprehensive and panoramic views into modern art in the world, and has grown to include over 135,000 paintings, prints, photographs, drawings, sculptures, films, and design objects. Visitors to New York City should make sure to stop in and view the collection during their vacations. Founded in 1929 as an educational institution, The Museum of Modern Art is dedicated to being the foremost museum of modern art in the world. Central to The Museum of Modern Art's mission is the encouragement of an ever-deeper understanding and enjoyment of modern and contemporary art by the diverse local, national, and international audiences that it serves. The Museum of Modern Art seeks to create a dialogue between the established and the experimental, the past and the present, in an environment that is responsive to the issues of modern and contemporary art, while being accessible to a public that ranges from scholars to young children. MoMA also has three restaurants on the premises: Café 2, is the museum's sophisticated cafeteria; Terrace 5 is a full-service café where guests can indulge in creative savory selections, delectable pastries and ice cream sundaes, inventive specialty cocktails, micro-brewed beers, and carefully selected wines; and The Modern offers the original, Alsatian-inspired cuisine of Chef Gabriel Kreuther, recently awarded three stars by The New York Times.
Museum Hours: Tues.-Mon., 10:30am-5:30pm; Fri., 10:30am-8pm (free entry 4-8pm for UNIQLO Free Friday Nights).
This event has already taken place. Click here for the latest events.
Upcoming Events at Museum of Modern Art (MoMA)