Carnaval! Celebration at SUSHISAMBA park
This event has already taken place. Click here for the latest events.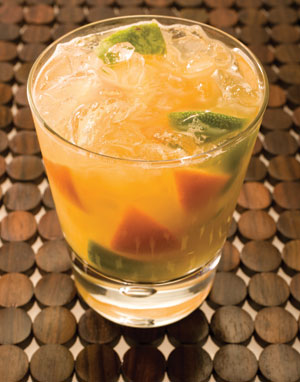 Join SUSHISAMBA for the annual Carnaval celebration that will exhilarate all your senses. Revelers will enjoy live performances by shimmering samba dancers, the beats of booming batucada drummers, DJs and more to mark Rio de Janeiro's most extravagant celebration. (Scroll down to learn how to make your own Tangerine Honey Caipirinha (pictured)!)
The celebration also takes place at their Greenwich Village location at 87 Seventh Ave. South, 212-691-7885.
The menu includes:
TANGERINE HONEY CAIPIRINHA - Leblon Cachaça, tangerine juice, honey, lime - $12
BLACK TRUFFLE BOLINHOS DE BACALHAU - celeriac purée and chimichurri oil - $20
KING CRAB PALMITO SALAD - heart of palm, papaya, passion fruit vinaigrette, candied cashew - $22
DUCK CONFIT ACARAJÉ - cilantro crema and gremolata - $14
CARNAVAL ROLL - shrimp tempura, avocado, tuna, shrimp, quinoa salad, lotus root chip, chimichurri-ponzu, spicy mayo - $15
LUCUMA CHEESECAKE - passion fruit-mandarin gelée, coconut, chirimoya sorbet - $11
Want to mix your own Tangerine Honey Caipirinha?
Ingredients: 2.5 oz. Leblon Cachaça; 2.5 oz. tangerine juice; 1 tbsp. honey; 2 slices of tangerine; 2 slices of lime
Muddle the tangerine, honey and sugar in a shaker. Fill the shaker with ice, add the tangerine juice and Leblon Cachaça. Shake vigorously and serve in a rocks glass. Saude!
Looking for Free Group Planning Services?
Get free advice on planning your group's trip to New York.