01/25/13 through 04/21/13 | Closed Thurs.
Solomon R. Guggenheim Museum
1071 Fifth Ave. Map
212-423-3500
This event has already taken place. Click here for the latest events.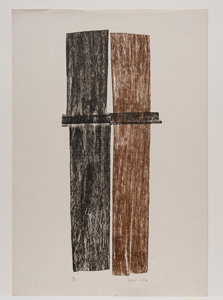 This retrospective of Indian-born American artist Zarina Hashmi is the first major exploration of the master printmaker's career, charting a developmental arc from her work in the 1960s to the present and including many seminal works from the late 1960s and early 1970s, woodblock prints, etchings and lithographs, and a small selection of related sculptures in bronze and cast paper. The Guggenheim's recent acquisition of 20 works from a major series of pin drawings from 1975 to 1977 serves as a fulcrum for the presentation, which is conceived in close collaboration with the artist. The exhibition has been curated by Allegra Pesenti, Curator, Grunwald Center for the Graphic Arts, Hammer Museum, where it opened in September 2012. The Guggenheim presentation is organized by Sandhini Poddar, former Associate Curator of Asian Art, with Helen Hsu, Assistant Curator, Solomon R. Guggenheim Museum. Zarina: Paper Like Skin was organized by the Hammer Museum, Los Angeles. The presentation at the Solomon R. Guggenheim Museum is supported in part by the Leadership Committee for Zarina: Paper Like Skin, with special thanks to Luhring Augustine, New York.
Pictured: Zarina Hashmi, Kiss, 1968. Relief print from collaged wood, printed in black and burnt umber on BFK white paper, 76.2 x 51.8 cm, edition 3/10. Courtesy the artist and Luhring Augustine, New York. Photo: Robert Wedemeyer.
Venue Description: Celebrated worldwide as one of the most noteworthy art museums and architectural icons of the 20th century, the Guggenheim Museum is all together an essential cultural center, an educational institution, as well as the heart of an international network of museums. Frank Lloyd Wright's iconic inverted ziggurat leads visitors through a series of interconnected rooms and requires them to retrace their steps when exiting. Visitors can experience special exhibitions of modern and contemporary art, lectures by artists and critics, performances and film screenings, classes for teens and adults, and daily tours of the galleries led by experienced docents. Founded on a collection of early modern masterpieces, the Guggenheim Museum today is an ever-increasing institution devoted to the art of the 20th century and beyond. Through extraordinary exhibitions, education programs, research initiatives, and publications, the Solomon R. Guggenheim Foundation achieves its mission of promoting the understanding and appreciation of modern and contemporary art and architecture, and the collection, conservation, and observation of the art of our time.

The Solomon R. Guggenheim Museum is located on the Upper East Side at 1071 Fifth Avenue (at 89th Street) and is open Sundays to Wednesdays from 10am-5:45pm, Fridays from 10am to 5:45pm, and Saturdays from 10am to 7:45pm. The Museum is closed on Thursdays and Christmas Day. Admission into the museum is $22 for adults, $18 for students and seniors (65 years and older) with valid ID. Children under twelve may enter free of cost. The museum is wheelchair accessible except for the High Gallery, located at the top of the first ramp, accessible by two low stairs. The first and second rotunda ramps offer partial views of the High Gallery. The last tickets are issued at 7:15pm.
This event has already taken place. Click here for the latest events.