Bill T. Jones/Arnie Zane Dance Company at The Joyce Theater
This event has already taken place. Click here for the latest events.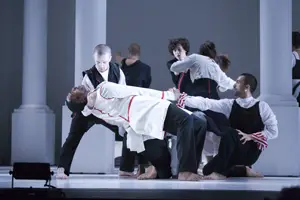 It's not easy being cutting-edge over three decades, but the Bill T. Jones / Arnie Zane Dance Company seems to have no trouble staying out ahead of the crowd. To celebrate its 30th anniversary, the company presents two weeks of dances old and new at New York's equally venerable jewel-box dance theater, the Joyce. Play and Play: An Evening of Movement and Music will comprise two programs of innovative choreography (with a touch of nudity in both) and live music from the Orion String Quartet. The composers include Beethoven, Mendelssohn, Mozart, Ravel, and Schubert, and the dancing should be just as choice. - Sylviane Gold
Articles About The Joyce Theater
Looking for Free Group Planning Services?
Get free advice on planning your group's trip to New York.