11/15/12 through 03/31/13
Whitney Museum of American Art
99 Gansevoort St. Map
212-570-3600
15-11-2012 12:00:00
31-03-2013 12:00:00
America/New_York
Sinister Pop
Sinister Pop presents an inventive take on the Museum's rich and diverse holdings of Pop art from the movement's inception in the early 1960s through its aftershocks a decade later. Although Pop art often calls to mind a celebration of postwar consumer culture, this exhibition focuses on Pop's darker side, as it distorts and critiques the American dream. Themes of exaggerated consumption, film noir and the depiction of women in art, the dystopic American landscape, and the intersection of popular culture and politics, are explored through works by acknowledged masters such as Jasper Johns, Claes Oldenburg, Ed Ruscha, and Andy Warhol, as well as by many artists not traditionally associated with Pop whose art may be understood within its wider field of reference. These include William Eggleston, Peter Saul, Christina Ramberg, and Vija Celmins, among others. http://www.cityguideny.com/eventinfo.cfm?id=124421
Whitney Museum of American Art
Whitney Museum of American Art
This event has already taken place. Click here for the latest events.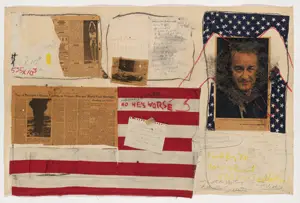 Sinister Pop presents an inventive take on the Museum's rich and diverse holdings of Pop art from the movement's inception in the early 1960s through its aftershocks a decade later. Although Pop art often calls to mind a celebration of postwar consumer culture, this exhibition focuses on Pop's darker side, as it distorts and critiques the American dream. Themes of exaggerated consumption, film noir and the depiction of women in art, the dystopic American landscape, and the intersection of popular culture and politics, are explored through works by acknowledged masters such as Jasper Johns, Claes Oldenburg, Ed Ruscha, and Andy Warhol, as well as by many artists not traditionally associated with Pop whose art may be understood within its wider field of reference. These include William Eggleston, Peter Saul, Christina Ramberg, and Vija Celmins, among others.
Pictured: Judith Bernstein, b. 1942, "L.B.J.", 1967. © 1967 Judith Bernstein
Venue Description: Home to an impressive display of 20th century and contemporary art of the United States, with special exhibitions of paintings, sculpture, drawings, and films. Open Wed.-Sun., 11am-6pm (Fri., 1-9pm). General admission: $20; Ages 16-25: $16; Ages 65 and over: $14; Full-time students: $14; Ages 18 and under: FREE.
This event has already taken place. Click here for the latest events.