02/07/13 through 04/28/13
Whitney Museum of American Art
99 Gansevoort St. Map
212-570-3600
07-02-2013 12:00:00
28-04-2013 12:00:00
America/New_York
Blues for Smoke
An interdisciplinary exhibition that explores a wide range of contemporary art through the lens of the blues and the blues aesthetic. Turning to the blues not simply as a musical category but as a field of artistic sensibilities and cultural idioms, the exhibition features works by nearly fifty artists from the 1950s to the present, as well as materials culled from music and popular entertainment. Blues for Smoke was conceived and developed by Los Angeles Museum of Contemporary Art curator Bennett Simpson, in consultation with the artist Glenn Ligon. The New York installation is being overseen by Whitney curator Chrissie Iles. http://www.cityguideny.com/eventinfo.cfm?id=126714
Whitney Museum of American Art
Whitney Museum of American Art
This event has already taken place. Click here for the latest events.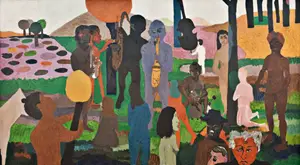 An interdisciplinary exhibition that explores a wide range of contemporary art through the lens of the blues and the blues aesthetic. Turning to the blues not simply as a musical category but as a field of artistic sensibilities and cultural idioms, the exhibition features works by nearly fifty artists from the 1950s to the present, as well as materials culled from music and popular entertainment. Blues for Smoke was conceived and developed by Los Angeles Museum of Contemporary Art curator Bennett Simpson, in consultation with the artist Glenn Ligon. The New York installation is being overseen by Whitney curator Chrissie Iles.
The exhibition includes more than ninety works in a wide variety of mediums, including photography, video, painting, drawing, sculpture, and multimedia installations, such as Stan Douglas's Hors-champs (1992), which will appear in the Museum's Lobby Gallery, and David Hammons's Chasing the Blue Train (1989), which will greet visitors as they enter the show. Many works in the exhibition clearly conjure the history and aesthetics of the blues, including Romare Bearden's collages of musicians, Roy DeCarava's atmospheric photographs of music halls, and Beauford Delaney's portrait paintings of African American cultural figures. Other works, such as HBO's hit drama The Wire, discussed by Glenn Ligon in the exhibition catalogue from the perspective of its distillation of the "blues imagination," demonstrate the reach of the blues beyond music. Still others communicate blues ideas without expressly naming them as such: the emphasis on memory and cross-cultural interpretation in works such as Ligon's "Richard Pryor" paintings, Renee Green's Import/Export Funk Office (1992–93), and Kara Walker's stirring video Fall Frum Grace: Miss Pipi's Blue Tale (2011).
Venue Description: Home to an impressive display of 20th century and contemporary art of the United States, with special exhibitions of paintings, sculpture, drawings, and films. Open Wed.-Sun., 11am-6pm (Fri., 1-9pm). General admission: $20; Ages 16-25: $16; Ages 65 and over: $14; Full-time students: $14; Ages 18 and under: FREE.
This event has already taken place. Click here for the latest events.