Calendar >

Send this link to a friend...

Add to Calendar 01-10-2013 05-10-2013 15 LOOT: MAD About Jewelry Now, in its 13th year, LOOT: MAD About Jewelry, MAD's juried selling exhibition of artist-made jewelry, has earned the reputation of being the ultimate pop-up shop for contemporary art and studio jewelry by both artists and collectors alike. LOOT will feature a range of work, including inventively modern pieces in gold, sterling silver and semiprecious stones alongside jewelry made of unexpected materials such as titanium, stainless steel, glass, wood, rubber, fabric, and found objects. Unlike any other jewelry event in the country, LOOT gives jewelry lovers the opportunity to meet some of the most innovative creators in the field and acquire work directly from them. Last year, MAD honored renowned jewelry artist Axel Russmeyer with the first LOOT Award for Contemporary Art Jewelry. This annual prize is in keeping with the long-standing commitment of the Museum of Arts and Design to present jewelry as an art form. MAD is the only American museum to possess a gallery dedicated to the display of both temporary jewelry exhibits and its own collection of contemporary and modern studio and art jewelry, which it began assembling soon after its founding in 1956. To date, LOOT has showcased famous jewelry artists like Eva Eisler, Robert Lee Morris and Kara Ross along with newer names -- thus becoming an important platform to launch the careers of many young, cutting-edge creators from around the globe. In 2012, Bulgaria, the Czech Republic, Ireland, Japan, and Tasmania were just some of the countries represented in the diverse roster of featured artists. This year's participating LOOT artists and LOOT Award recipient will be announced in the spring. Proceeds from the selling show benefit the Museum's exhibition and education programs. http://www.cityguideny.com/eventinfo.cfm?id=128191 Museum of Arts & Design true DD/MM/YYYY
This event has already taken place. Click here for the latest events.

Date: 10/01/13 through 10/05/13
Ages: All Ages
Address: 2 Columbus Circle - 212-299-7777
madmuseum.org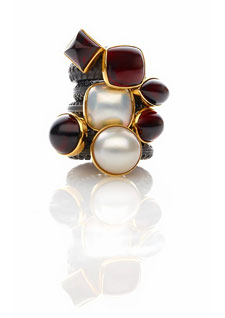 Now, in its 13th year, LOOT: MAD About Jewelry, MAD's juried selling exhibition of artist-made jewelry, has earned the reputation of being the ultimate pop-up shop for contemporary art and studio jewelry by both artists and collectors alike. LOOT will feature a range of work, including inventively modern pieces in gold, sterling silver and semiprecious stones alongside jewelry made of unexpected materials such as titanium, stainless steel, glass, wood, rubber, fabric, and found objects. Unlike any other jewelry event in the country, LOOT gives jewelry lovers the opportunity to meet some of the most innovative creators in the field and acquire work directly from them.
Last year, MAD honored renowned jewelry artist Axel Russmeyer with the first LOOT Award for Contemporary Art Jewelry. This annual prize is in keeping with the long-standing commitment of the Museum of Arts and Design to present jewelry as an art form. MAD is the only American museum to possess a gallery dedicated to the display of both temporary jewelry exhibits and its own collection of contemporary and modern studio and art jewelry, which it began assembling soon after its founding in 1956.
To date, LOOT has showcased famous jewelry artists like Eva Eisler, Robert Lee Morris and Kara Ross along with newer names—thus becoming an important platform to launch the careers of many young, cutting-edge creators from around the globe. In 2012, Bulgaria, the Czech Republic, Ireland, Japan, and Tasmania were just some of the countries represented in the diverse roster of featured artists. This year's participating LOOT artists and LOOT Award recipient will be announced in the spring.
Proceeds from the selling show benefit the Museum's exhibition and education programs.
Venue Description: Open Tues.-Sun., 11am-6pm (Thurs. & Fri. until 9pm). $15; $12, students/seniors. Pay what you wish Thurs., 6-9pm.
This event has already taken place. Click here for the latest events.
Cultural Arts Listings:
More Upcoming Events at Museum of Arts & Design:
CityGuideNY.com Articles About Museum of Arts & Design:
Submit Event to CityGuideNY.com Calendar