This event has already taken place. Click here for the latest events.

Date: 03/13/13 through 03/24/13
Ages: All Ages
Price: $49
Address: 405 W. 55th St. - 212-405-9082
www.alvinailey.org/aileyii
Ailey II is universally renowned for merging the spirit and energy of the country's best young dance talent with the passion and creative vision of today's most outstanding emerging choreographers. Ailey II flourished into one of the most popular dance companies in the country under the leadership of Sylvia Waters (from 1974-2012), combining a rigorous touring schedule with extensive community outreach programs. After over a decade of working alongside Sylvia Waters as Associate Artistic Director, Troy Powell assumes the reigns of the Company in his first year as Artistic Director.
Ailey II's 12 rising stars will take the stage in their home theater March 13 - 24 for 14 exciting performances of new works and returning favorites.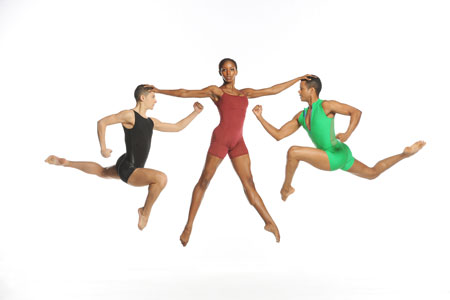 Ailey II is at the peak of its popularity, winning rave reviews and regularly selling out performances all over the world. The Company's New York season will feature two diverse programs: All New & Returning Favorites. The all new program includes One Forgotten Moment by Malcolm Low, Rusty by Benoit-Swan Pouffer, Virtues by Amy Hall Garner, and a new production of Splendid Isolation II by Jessica Lang.
The Company's two-week New York season will also feature three returning favorites: Artistic Director Troy Powell's The External Knot, Alvin Ailey's Quintet, and Judith Jamison's Divining.
All New:
ONE FORGOTTEN MOMENT / SPLENDID ISOLATION II, RUSTY / VIRTUES
(running time: 1hr. 39 mins)
Returning Favorites:
THE EXTERNAL KNOT / QUINTET / DIVINING
(running time: 1hr. 38 mins)
Pictured: Ailey II's Thomas Varvaro, Aqura Lacey, and Slim Mello. Photo by Eduardo Patino.
This event has already taken place. Click here for the latest events.
CityGuideNY.com Articles About Ailey Citigroup Theater:
Submit Event to CityGuideNY.com Calendar