Date: 10/12/13 through 06/22/14
Ages: All Ages
Address: 200 Central Park West - 212-769-5100
amnh.org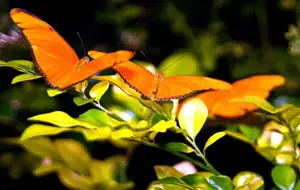 The Butterfly Conservatory: Tropical Butterflies Alive in Winter!, a perennial favorite visited by millions of children and adults, returns to the American Museum of Natural History. This popular winter attraction invites visitors to mingle with up to 500 iridescent butterflies fluttering among blooming tropical flowers and lush green vegetation inside a free-standing, balmy, 1,200-square-foot enclosure.
Venue Description: A museum for the 21st century, with a rich and storied past and one of the greatest natural history museums in the world, with over 40 exhibition halls. Open daily from 10am to 5:45pm except on Thanksgiving and Christmas.
Cultural Arts Listings:
More Upcoming Events at American Museum of Natural History:
CityGuideNY.com Articles About American Museum of Natural History: