Restaurants > French


More French Listings... | Submit Listing Changes/Additions | Send this link to a friend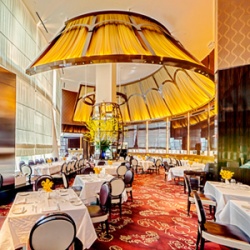 151 E. 58th St.

212-644-0202
www.lecirque.com
Le Cirque has offered an unparalleled dining experience for over 39 years, earning its place on New York's gastronomical landscape. Famed restaurateur Sirio Maccioni and sons Mario, Marco and Mauro, welcome you to their elegant Adam D. Tihany designed fine-dining restaurant in the heart of midtown. The 16,000-square-foot glass-and-steel Le Cirque, located in the Bloomberg Building, features Alexander Calder-esque circus artwork, Reidel stemware, and designer ties for the staff. The French-Italian cuisine is just as exciting to the palate as it is a feast for the eye, with dishes such as Wild Burgundy Escargot, Chanterelle Risotto, Tuscan Brick Pressed Chicken, and Whole Roasted Black Truffle Chicken for Two (carved tableside), among many other classics. A dress code is in effect, so jackets required for gentlemen, as are elegant looks for the ladies.
The Cafe also hosts Musical Mondays every week from 8-11pm, with live performances by up-and-coming musicians, singers, and peformers.
Visit the Activity Planner for More Great Activities
CityGuideNY.com Articles About Le Cirque:
Click Here for the New York City Activity Planner!
Advertising | Add a Calendar Event | Bookmarks | Company News | Contact Us | Jobs @ City Guide
Suggest a Listing
For More Content Visit: Concierge Choice Awards | Promenade Magazine | NY Metro Parents Magazine
Bar Bat Mitzvah Book | NYC Activities | NYC Dining | NYC Discounts | NYC Events
NYC Museums | NYC Shopping | NYC Theater