Theater > Broadway


More Broadway Listings... | Submit Listing Changes/Additions | Send this link to a friend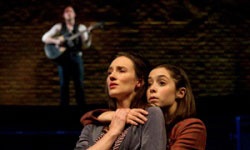 242 W. 45th St.

212-239-6200
www.oncemusical.com
On the streets of Dublin, an Irish musician and Czech immigrant are drawn together by their shared love of music. Over the course of one fateful week, an unexpected friendship and collaboration quickly evolves into a powerful but complicated love story underscored by emotionally charged music. Tues. & Thurs., 7; Wed., Fri. & Sat., 8; Wed. & Sat., 2; Sun., 3. Call or visit website for variations in playing schedule. Winner: 2013 Grammy Award for Best Musical Theater Album.
Related Links:

Visit the Activity Planner for More Great Activities
Click Here for the New York City Activity Planner!
Advertising | Add a Calendar Event | Bookmarks | Company News | Contact Us | Jobs @ City Guide
Suggest a Listing
For More Content Visit: Concierge Choice Awards | Promenade Magazine | NY Metro Parents Magazine
Bar Bat Mitzvah Book | NYC Activities | NYC Dining | NYC Discounts | NYC Events
NYC Museums | NYC Shopping | NYC Theater