Shopping > Department Stores


Submit Listing Changes/Additions | Send this link to a friend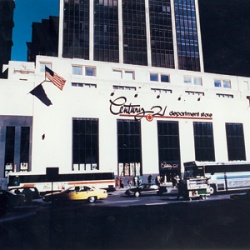 22 Cortlandt St.

212-227-9092
www.c21stores.com
Coupon (click here): Chance to win $1000 shopping bag

For over 50 years, Century 21 Department Store in lower Manhattan has provided top designers at up to 65% off retail 100% of the time. You'll find everything from men's, women's and children's apparel to footwear, handbags, housewares and more at this landmark shopping destination. Century 21 is a must-see for tourists and a mainstay for veteran New Yorkers. Come in and score big on all the top designers at New York's #1 Zagat-rated off-price store -- you might even catch a celebrity or two! Shop amazing C21 savings, and you can afford to look great anytime.
Hours: Mon.-Wed., 7:45 a.m. to 9:00 p.m.; Thurs.- Fri., 7:45 a.m. to 9:30 p.m.; Sat., 10 a.m. to 9:00 p.m.; Sun., 11:00 a.m. to 8:00 p.m.
Visit the Activity Planner for More Great Activities
CityGuideNY.com Articles About Century 21 Department Store:
Click Here for the New York City Activity Planner!
Advertising | Add a Calendar Event | Bookmarks | Company News | Contact Us | Jobs @ City Guide
Suggest a Listing
For More Content Visit: Concierge Choice Awards | Promenade Magazine | NY Metro Parents Magazine
Bar Bat Mitzvah Book | NYC Activities | NYC Dining | NYC Discounts | NYC Events
NYC Museums | NYC Shopping | NYC Theater