Theater > Broadway


More Broadway Listings... | Submit Listing Changes/Additions | Send this link to a friend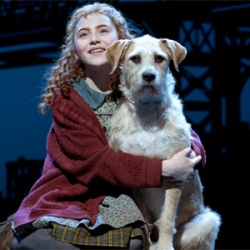 1564 Broadway

877-250-2929
www.anniethemusical.com
An all-new production of one of the most acclaimed musicals of the past 35 years! Little Orphan Annie - who has charmed comic strip readers since the Great Depression - is back in 1930s New York overcoming the machinations of nefarious orphanage matron Miss Hannigan and winning the hearts of everyone from her fellow urchins to ultra-rich Daddy Warbucks to FDR. With her pal dog, Sandy, the spunkalicious one reminds a whole new generation "The sun will come out 'Tomorrow'!" Tues. & Thurs., 8; Fri. & Sat., 8; Wed., Fri. & Sat., 2; Sun., 3. Call or visit website for variations in playing schedule.
Visit the Activity Planner for More Great Activities
CityGuideNY.com Articles About Annie:
Click Here for Money Saving New York City Offers!
Advertising | Add a Calendar Event | Bookmarks | Company News | Contact Us | Jobs @ City Guide
Suggest a Listing
For More Content Visit: Concierge Choice Awards | Promenade Magazine | NY Metro Parents Magazine
Bar Bat Mitzvah Book | NYC Activities | NYC Dining | NYC Discounts | NYC Events
NYC Museums | NYC Shopping | NYC Theater