Theater > Off-Broadway


More Off-Broadway Listings... | Submit Listing Changes/Additions | Send this link to a friend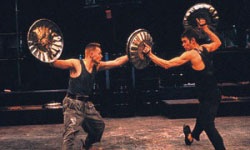 126 Second Ave.

212-307-4100
www.stomponline.com
Springing from the underground music clubs of Britain and influenced by its urban streets, the eight members of Stomp -- with their eclectic theatre of percussion -- have traveled throughout the world and caused sensation after sensation at each of their international appearances. Tues.-Sat., 8; Sun., 5:30; Sat., 3; Sun., 2. Call or visit website for variations in playing schedule.
Related Links:

Visit the Activity Planner for More Great Activities
CityGuideNY.com Articles About Stomp:
Click Here for the New York City Activity Planner!
Advertising | Add a Calendar Event | Bookmarks | Company News | Contact Us | Jobs @ City Guide
Suggest a Listing
For More Content Visit: Concierge Choice Awards | Promenade Magazine | NY Metro Parents Magazine
Bar Bat Mitzvah Book | NYC Activities | NYC Dining | NYC Discounts | NYC Events
NYC Museums | NYC Shopping | NYC Theater