Restaurants > Steakhouse/Seafood


More Steakhouse/Seafood Listings... | Submit Listing Changes/Additions | Send this link to a friend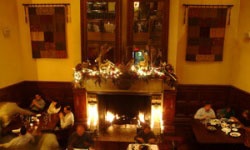 52 E. 41st St.

212-297-9177
www.benjaminsteakhouse.com
Peter Luger alumni Benjamin Prelvukaj and Chef Arturo McLeod have combined over 30 years of experience to create Benjamin Steak House, conveniently located near Grand Central Station in the century-old Chemist Club Building. From the beautifully marbled cuts of dry-aged beef to the impeccably refined Old World service and charm, Benjamin Steak House prides itself in providing a quality dining experience in an elegant midtown setting.
Visit the Activity Planner for More Great Activities
CityGuideNY.com Articles About Benjamin Steakhouse:
Click Here for the New York City Activity Planner!
Advertising | Add a Calendar Event | Bookmarks | Company News | Contact Us | Jobs @ City Guide
Suggest a Listing
For More Content Visit: Concierge Choice Awards | Promenade Magazine | NY Metro Parents Magazine
Bar Bat Mitzvah Book | NYC Activities | NYC Dining | NYC Discounts | NYC Events
NYC Museums | NYC Shopping | NYC Theater