Restaurants > American


More American Listings... | Submit Listing Changes/Additions | Send this link to a friend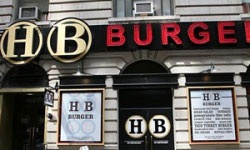 127 W. 43rd St.

212-575-5848
www.heartlandbrewery.com
The newest member to the Heartland Brewery family, HB Burger, is not your average burger joint. With wrought iron and amber lighting, two bars and spacious seating, this restaurant serves up nine specialty burgers and great salads, accompanied by a tasty assortment of "Must Frys" from tater tots to tempura. HB soda fountain makes shakes & malts, egg creams, hard shakes (not for the kids) and the "World's Smallest Hot Fudge Sundae"! Not to be forgotten, HB Burger also serves Heartland Brewery's fine handcrafted beers.
Visit the Activity Planner for More Great Activities
CityGuideNY.com Articles About HB Burger:
Click Here for the New York City Activity Planner!
Advertising | Add a Calendar Event | Bookmarks | Company News | Contact Us | Jobs @ City Guide
Suggest a Listing
For More Content Visit: Concierge Choice Awards | Promenade Magazine | NY Metro Parents Magazine
Bar Bat Mitzvah Book | NYC Activities | NYC Dining | NYC Discounts | NYC Events
NYC Museums | NYC Shopping | NYC Theater