Restaurants > Steakhouse/Seafood


More Steakhouse/Seafood Listings... | Submit Listing Changes/Additions | Send this link to a friend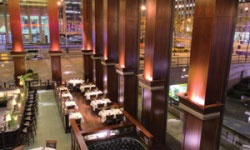 1221 Sixth Ave.

212-575-5129
www.delfriscos.com
Steak House redefined. A sophisticated, elegant space reflecting the energy, vibrancy, and romanticism of the city. Excellent service combines with generous portions of prime steaks, magnificent cold-water lobster tails and specialties such as combination shrimp platters and crab cakes. Beautifully appointed private party facilities and unique wine cellar dining. A true dining experience. Reservations recommended. All cards. Open nightly for dinner, lunch weekdays.
2011 Concierge Choice Award Winner - Individual Maitre D' - Felix Albano
Related Links:
Del Frisco's Double Eagle Steak House review (Review) Visit the Activity Planner for More Great Activities

CityGuideNY.com Articles About Del Frisco's Double Eagle Steak House:
Click Here for the New York City Activity Planner!
Advertising | Add a Calendar Event | Bookmarks | Company News | Contact Us | Jobs @ City Guide
Suggest a Listing
For More Content Visit: Concierge Choice Awards | Promenade Magazine | NY Metro Parents Magazine
Bar Bat Mitzvah Book | NYC Activities | NYC Dining | NYC Discounts | NYC Events
NYC Museums | NYC Shopping | NYC Theater