Restaurants > Italian


More Italian Listings... | Submit Listing Changes/Additions | Send this link to a friend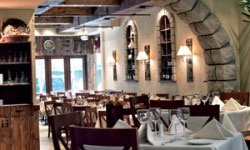 235 W. 48th St.

212-582-2111
www.lamasserianyc.com
"A farmhouse in the middle of Manhattan," offering classic dishes from the Puglia region of Italy, utilizing the freshest natural ingredients for simple, authentic pastas, risottos, and meat and fish dishes. Warm, inviting decor blends rural Italian style, nostalgia & charm, complementing exceptional cuisine & wine list. Among most popular restaurants in Theatre District. 7 days lunch/dinner.
Visit the Activity Planner for More Great Activities
CityGuideNY.com Articles About La Masseria:
Click Here for the New York City Activity Planner!
Advertising | Add a Calendar Event | Bookmarks | Company News | Contact Us | Jobs @ City Guide
Suggest a Listing
For More Content Visit: Concierge Choice Awards | Promenade Magazine | NY Metro Parents Magazine
Bar Bat Mitzvah Book | NYC Activities | NYC Dining | NYC Discounts | NYC Events
NYC Museums | NYC Shopping | NYC Theater