Sightseeing > Attractions


More Attractions Listings... | Submit Listing Changes/Additions | Send this link to a friend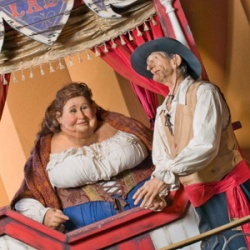 234 W. 42nd St.

212-398-3133
ripleysnewyork.com
Coupon (click here): $6/$5/$4 off

Located in Times Square in the heart of New York City, Ripley's Believe It or Not! Odditorium brings people of all ages face-to-face with the world's most unbelievable curiosities. With 18,000 square feet of astonishing artifacts and exciting interactive exhibits including the world's largest collection of shrunken heads, New York's only laser maze and the new Willard Wigan micro-miniature sculpture collection that is so small it takes 400 times magnification to be seen properly, guests will find incredible oddities around every corner. Ripley's Believe It or Not! Times Square is open from 9:00am - 1:00am daily.
Click here to learn about Ripley's new Baseball Exhibit.
Related Links:

Visit the Activity Planner for More Great Activities
CityGuideNY.com Articles About Ripley's Believe It or Not! Times Square:
Click Here for the New York City Activity Planner!
Advertising | Add a Calendar Event | Bookmarks | Company News | Contact Us | Jobs @ City Guide
Suggest a Listing
For More Content Visit: Concierge Choice Awards | Promenade Magazine | NY Metro Parents Magazine
Bar Bat Mitzvah Book | NYC Activities | NYC Dining | NYC Discounts | NYC Events
NYC Museums | NYC Shopping | NYC Theater