Restaurants > American


More American Listings... | Submit Listing Changes/Additions | Send this link to a friend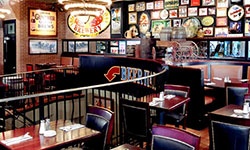 127 W. 43rd St.

646-366-0235
www.heartlandbrewery.com
Times Square has a new American restaurant serving handcrafted beers, housemade sodas, and a hearty steakhouse menu. The handsome, 12,000-square-foot space boasts Victorian touches and a large-scale mural in the style of Thomas Hart Benton. Lunch & dinner daily. (M) All cards. Other locations: Fifth Ave. @ 34th St., 212-563-3433; Union Sq. W. at 17th St., 212-645-3400; 625 Eighth Ave. at 41st St., 646-366-0235; South St. Seaport, 646-572-BEER (2337).
Related Links:
Heartland Brewery Review (Review) Visit the Activity Planner for More Great Activities

CityGuideNY.com Articles About Heartland Brewery & Chophouse:
Click Here to Purchase Tickets to NYC Shows & Attractions!
Advertising | Add a Calendar Event | Bookmarks | Company News | Contact Us | Jobs @ City Guide
Suggest a Listing
For More Content Visit: Concierge Choice Awards | Promenade Magazine | NY Metro Parents Magazine
Bar Bat Mitzvah Book | NYC Activities | NYC Dining | NYC Discounts | NYC Events
NYC Museums | NYC Shopping | NYC Theater