Shopping > Sporting Goods


More Sporting Goods Listings... | Submit Listing Changes/Additions | Send this link to a friend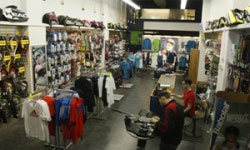 157A W. 35th St.

212-695-5353
nycracquetsports.com
Voted Specialty Retailer of the Year, this is NYC's largest and most complete racquet sport store. NYCRS offers a perfect selection of racquets (all sports) clothing, footwear & accessories with an expert staff to guide you. Tournament quality stringing is available for same-day service. The go-to-shop for Racquet Sports enthusiasts, located across from Macy's Herald Square. Mon.-Fri., 8:30am-7pm, Sat.-Sun., 10am-6pm.
Visit the Activity Planner for More Great Activities
CityGuideNY.com Articles About NYC Racquet Sports:
Click Here to Purchase Tickets to NYC Shows & Attractions!
Advertising | Add a Calendar Event | Bookmarks | Company News | Contact Us | Jobs @ City Guide
Suggest a Listing
For More Content Visit: Concierge Choice Awards | Promenade Magazine | NY Metro Parents Magazine
Bar Bat Mitzvah Book | NYC Activities | NYC Dining | NYC Discounts | NYC Events
NYC Museums | NYC Shopping | NYC Theater