Theater > Off-Broadway


More Off-Broadway Listings... | Submit Listing Changes/Additions | Send this link to a friend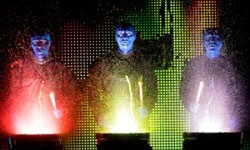 434 Lafayette St.

800-258-3626
www.blueman.com
(1 hr., 45 mins.) Best known for their wildly popular theatrical shows, Blue Man Group combines music, comedy and multimedia theatrics to produce a totally unique form of entertainment. Mon.-Fri., 8; Sat. & Sun., 2, 5 & 8. Schedule subject to change; for complete schedule visit blueman.com.
Related Links:

Visit the Activity Planner for More Great Activities
CityGuideNY.com Articles About Blue Man Group:
Click Here for the New York City Activity Planner!
Advertising | Add a Calendar Event | Bookmarks | Company News | Contact Us | Jobs @ City Guide
Suggest a Listing
For More Content Visit: Concierge Choice Awards | Promenade Magazine | NY Metro Parents Magazine
Bar Bat Mitzvah Book | NYC Activities | NYC Dining | NYC Discounts | NYC Events
NYC Museums | NYC Shopping | NYC Theater