Restaurants > Deli


More Deli Listings... | Submit Listing Changes/Additions | Send this link to a friend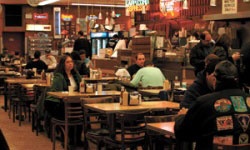 205 E. Houston St.

212-254-2246
katzsdelicatessen.com
Sometimes it's best to leave a classic alone, as in the case of the famous Katz's Deli. This near-mythic legendary restaurant located on the Lower East Side has been serving half-pound sandwiches of hot pastrami and corned beef, plump grilled franks, knishes, matzoh ball soup, and other favorite deli fare since 1888. Open 24 hours.
Visit the Activity Planner for More Great Activities
CityGuideNY.com Articles About Katz's Delicatessen:
Click Here for Money Saving New York City Offers!
Advertising | Add a Calendar Event | Bookmarks | Company News | Contact Us | Jobs @ City Guide
Suggest a Listing
For More Content Visit: Concierge Choice Awards | Promenade Magazine | NY Metro Parents Magazine
Bar Bat Mitzvah Book | NYC Activities | NYC Dining | NYC Discounts | NYC Events
NYC Museums | NYC Shopping | NYC Theater