Shopping > Leather Goods


More Leather Goods Listings... | Submit Listing Changes/Additions | Send this link to a friend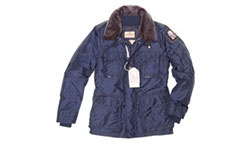 690 Lexington Ave.

212-980-1514

The leather jacket store in NY. Among NY's largest selections with 20,000+ jackets, pants & vests including Schott, Avirex, Vanson, Robin's Jean, original Indian jackets, Woolrich, Alpha/Authentic MA-1's, Affliction. Men's, women's and children's. Known for their excellent prices and expert service and a large selection of Ed Hardy t-shirts, jeans, hats and sunglasses. All cards. Open 7 days, 9am-8:30pm.
Visit the Activity Planner for More Great Activities
CityGuideNY.com Articles About Genesis:
Click Here to Purchase Tickets to NYC Shows & Attractions!
Advertising | Add a Calendar Event | Bookmarks | Company News | Contact Us | Jobs @ City Guide
Suggest a Listing
For More Content Visit: Concierge Choice Awards | Promenade Magazine | NY Metro Parents Magazine
Bar Bat Mitzvah Book | NYC Activities | NYC Dining | NYC Discounts | NYC Events
NYC Museums | NYC Shopping | NYC Theater