Shopping > Arts and Antiques


More Arts and Antiques Listings... | Submit Listing Changes/Additions | Send this link to a friend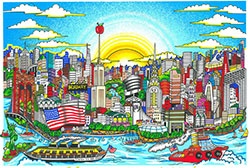 112 W. 44th St.

212-768-3160
www.hsart.com
Featuring 3-D originals by famous artists such as Charles Fazzino, James Rizzi, and John Suchi; serigraphs and lithographs by Thomas McKnight, Ken Keeley, Tarkay, Bob Pejman, Jennifer Maine, Kamil Kubik, and more. They also offer original signed sports memorabilia, a large selection of posters, and SAME-DAY CUSTOM FRAMING. They ship worldwide. All cards. Mon.-Sat., 9:30A-7:30P; Sun., 10A-6P.
Visit the Activity Planner for More Great Activities
CityGuideNY.com Articles About H & S Art Gallery:
Click Here for Money Saving New York City Offers!
Advertising | Add a Calendar Event | Bookmarks | Company News | Contact Us | Jobs @ City Guide
Suggest a Listing
For More Content Visit: Concierge Choice Awards | Promenade Magazine | NY Metro Parents Magazine
Bar Bat Mitzvah Book | NYC Activities | NYC Dining | NYC Discounts | NYC Events
NYC Museums | NYC Shopping | NYC Theater