Shopping > Emporium, Flea Markets


More Emporium, Flea Markets Listings... | Submit Listing Changes/Additions | Send this link to a friend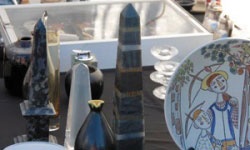 9th Ave. & W. 39th St.

212-243-5343
www.hellskitchenfleamarket.com
Open every Sat. & Sun., with up to 170 vendors selling antiques, collectibles, fine crafts, handmade jewelry, decorative arts, and vintage clothing. Designers, celebrities, and locals shop here. Its location southwest of Times Square provides a sweeping midtown view and a uniquely New York feel.
Visit the Activity Planner for More Great Activities
CityGuideNY.com Articles About Hell's Kitchen Flea Market:
| | |
| --- | --- |
| | JUMP TO CITYGUIDE LISTINGS |
Advertising | Add a Calendar Event | Bookmarks | Company News | Contact Us | Jobs @ City Guide
Suggest a Listing
For More Content Visit: Concierge Choice Awards | Promenade Magazine | NY Metro Parents Magazine
Bar Bat Mitzvah Book | NYC Activities | NYC Dining | NYC Discounts | NYC Events
NYC Museums | NYC Shopping | NYC Theater