Shopping > Department Stores


More Department Stores Listings... | Submit Listing Changes/Additions | Send this link to a friend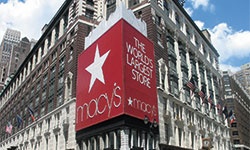 151 W. 34th St.

212-695-4400
www.macys.com
With 11 floors, Macy's has everything you could ever need in fashion, family, and home, new styles, must-have brands, incredible sales, daily entertainment, cooking demonstrations, and celebrity appearances. Their larger-than-life events -- such as the Thanksgiving Day Parade, 4th of July fireworks, and Flower Show -- have become beloved American traditions.
Visit the Activity Planner for More Great Activities
CityGuideNY.com Articles About Macy's:
Click Here for the New York City Activity Planner!
Advertising | Add a Calendar Event | Bookmarks | Company News | Contact Us | Jobs @ City Guide
Suggest a Listing
For More Content Visit: Concierge Choice Awards | Promenade Magazine | NY Metro Parents Magazine
Bar Bat Mitzvah Book | NYC Activities | NYC Dining | NYC Discounts | NYC Events
NYC Museums | NYC Shopping | NYC Theater