Shopping > Music


More Music Listings... | Submit Listing Changes/Additions | Send this link to a friend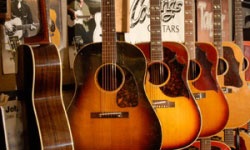 273 Bleecker St.

212-675-2157
www.umanovguitars.com
One of NY's oldest (more than 35 years), most respected guitar stores, it remains the favorite choice of collectors, professionals, & discerning shoppers. Choose from hundreds of new & vintage guitars, including Fender, Gibson, Martin, Gretsch, & Paul Reed Smith. Amps & effects pedals are also well-represented. The store also features NYC's most complete service center. Worldwide shipping. All cards.
Visit the Activity Planner for More Great Activities
CityGuideNY.com Articles About Matt Umanov Guitars:
Click Here for the New York City Activity Planner!
Advertising | Add a Calendar Event | Bookmarks | Company News | Contact Us | Jobs @ City Guide
Suggest a Listing
For More Content Visit: Concierge Choice Awards | Promenade Magazine | NY Metro Parents Magazine
Bar Bat Mitzvah Book | NYC Activities | NYC Dining | NYC Discounts | NYC Events
NYC Museums | NYC Shopping | NYC Theater