Restaurants > Spanish


More Spanish Listings... | Submit Listing Changes/Additions | Send this link to a friend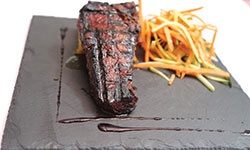 168 W. 4th St.

212-242-9338, 212-242-6480
www.tiopepenyc.com
Join Tio Pepe every week for their new Tapas Thursdays special, which includes a traditional tapa with every glass of wine or sangria with live music by the band Burlap to Cashmere, who perform from 7-9pm.
Open since 1970 in Greenwich Village, Tio Pepe combines two surprisingly dissimilar cuisines-Spanish and Mexican-and offers a lively bar scene, a sidewalk cafe, Latino music, and a main dining room with a skylight garden patio room, chandeliers, and stone and brick walls. The fresh guacamole is made to order in tableside stone bowls, the corn chips are warm, the salsa is snappy, and jumbo pitchers of margaritas and excellent sangria are the order of the day.
Related Links:
Tio Pepe review (Review) Visit the Activity Planner for More Great Activities

CityGuideNY.com Articles About Tio Pepe:
| | |
| --- | --- |
| | JUMP TO CITYGUIDE LISTINGS |
Advertising | Add a Calendar Event | Bookmarks | Company News | Contact Us | Jobs @ City Guide
Suggest a Listing
For More Content Visit: Concierge Choice Awards | Promenade Magazine | NY Metro Parents Magazine
Bar Bat Mitzvah Book | NYC Activities | NYC Dining | NYC Discounts | NYC Events
NYC Museums | NYC Shopping | NYC Theater