Shopping > Comics


More Comics Listings... | Submit Listing Changes/Additions | Send this link to a friend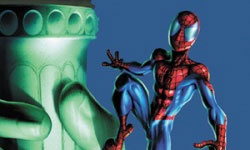 200 W. 40th St.

212-302-8192
www.midtowncomics.com
Choose from 3 spacious, friendly locations, where everything related to comics can be found. From mainstream titles to alternative press, all the latest comics, graphic novels & a huge selection of back issues await you. A comprehensive selection of action figures, statues, collectibles, & much more. Courteous, knowledgeable staff always on hand to help. Check website for store hours. Also located in Grand Central (459 Lexington Ave.) and Downtown (64 Fulton St. at Gold St.).
Visit the Activity Planner for More Great Activities
CityGuideNY.com Articles About Midtown Comics:
Click Here for the New York City Activity Planner!
Advertising | Add a Calendar Event | Bookmarks | Company News | Contact Us | Jobs @ City Guide
Suggest a Listing
For More Content Visit: Concierge Choice Awards | Promenade Magazine | NY Metro Parents Magazine
Bar Bat Mitzvah Book | NYC Activities | NYC Dining | NYC Discounts | NYC Events
NYC Museums | NYC Shopping | NYC Theater