Restaurants > Italian


More Italian Listings... | Submit Listing Changes/Additions | Send this link to a friend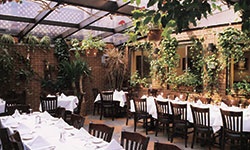 69 MacDougal St.

212-673-0390 or 212-674-0320
www.villamosconi.com
A NYC favorite in the heart of the famous neighborhood of Greenwich Village. Villa Mosconi is renowned for serving great homemade pastas and fresh seafood. Enjoy their beautiful four-season garden, the perfect complement to their sublime Italian delights.
Visit the Activity Planner for More Great Activities
CityGuideNY.com Articles About Villa Mosconi:
Click Here to Purchase Tickets to NYC Shows & Attractions!
Advertising | Add a Calendar Event | Bookmarks | Company News | Contact Us | Jobs @ City Guide
Suggest a Listing
For More Content Visit: Concierge Choice Awards | Promenade Magazine | NY Metro Parents Magazine
Bar Bat Mitzvah Book | NYC Activities | NYC Dining | NYC Discounts | NYC Events
NYC Museums | NYC Shopping | NYC Theater